Get started by finding a salon school further down this page.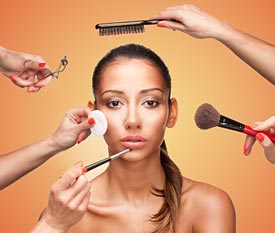 Cosmetology covers a variety of related occupations involving attention to general beauty and beauty products. Those who choose among the many cosmetology schools may also choose to study a particular discipline, such as hair dressing, nail care, or makeup and skin care.
The time expected to obtain each certification varies depending on many factors. Those considering a career in beauty should gain an understanding of the profession and the path to obtaining a job within the field — that's what this page is all about!
On this page:
• US and Canada School Listings
• What Are The Requirements To Study Cosmetology?
• What Are The Different Types of Places to Study?
• How Much Does School Cost?
• Best Schools for Your Cosmetology Training
• Cosmetology Scholarships and Financial Aid
• Beauty Careers
• Cosmetologist Salary
See What Schools Are Available in Your State
Get started by entering a ZIP below to find a good school near you.

Beauty Colleges & Schools State Listings

Canadian Provinces
Where can I study Cosmetology? Are Schools and Colleges the Same Thing?
No matter what they are called, these schools are a place for those who want to work in the beauty field to learn how to perform a variety of services. Salon schools offer both classroom instruction and an opportunity to have hands on experience with the topics students learn about in their lessons. Participants in training study in the following areas:
Hair care and cutting
Makeup application
Skin care
Nail care
Graduates often choose an area in which to specialize. For example, a student may want to become a hairdresser, so she may go on to take several more hours of courses in hair care in order to become licensed. Similarly, many students will further delve into makeup in order to improve their airbrush technique if the particular school offers it. Other students may want to keep their experience general, obtaining a general cosmetology degree. This may be really helpful for those who wish to open their own salon and offer a wide range of services. One discipline that isn't touched upon in most beautician's training is massage for that it is necessary to go to a massage therapy school.
Most areas have their own places to train as a cosmetologist. However, some students find it difficult to manage working in-person classes into their busy schedules. For those students doing night classes or studying at an online school may be the best option. Students who go with online schooling may have to mail in assignments for their instructors to grade and will need to do some in-school course work.
Regardless of the type of training a student chooses, the courses serve as preparation for both the licensing process and the student's future career in the beauty industry.
Back to the Top
The Requirements and Preparation Needed To Study To Be a Cosmetologist

Some colleges have specific requirements that relate to their program, but most adhere to similar regulations. Before you enrol in a particular program, you should make sure you understand the requirements for the school you have chosen. Several factors go into making such a big decision, and there is more to the process than simply asking, "What are the schools near me?"
Age – Some institutions have an age requirement for their students. Many of them require students to be at least 16 years old, while others want their students to be older. High schools, on the other hand, may have an upper age limit due to the fact that the courses are intended for those students who are still in high school. The school should have this information listed within the application paperwork. Prospective students should ask about age restrictions if they are still a minor, just to be on the safe side.
Educational Requirements – In most cases, a high school diploma or a GED is required in order to enroll. In a few cases, schools may allow students to take classes while they are still in high school. Some schools do not have any requirements pertaining to prior education. This information should also be available within the application paperwork. If students are unsure about requirements, they can contact either the state board or the school itself to determine their next course of action.
Cost – The fees for attending schools for a cosmetology certificate can range from as low as $1,000 to $2,000
or as high as $30,000 and up. Besides tuition and fees, students can expect to purchase textbooks and supplies to participate in their classes. Students may also need to factor living expenses into the total amount of money needed, particularly if they intend to attend classes full time. Choosing online study reduces these fees a lot, but at least part of your training must be done in person. Financial aid may be available from a variety of sources to help offset online or other school cost.
Length of Study – The amount of time that it can take students to achieve a certificate varies. It depends on the school that they choose and the discipline in which they choose to specialize. Other factors — such as licensing requirements from the state board — can also dictate how long the course of study may take. The length of study can be as low as a year or as long as two to three years.
Licensing – Individual academies do not provide licensing for their students. The individual state boards of cosmetology instead accredit them because their curricula match the requirements set forth by the board. Students must take and pass licensing exams in order to obtain a license to operate in their location. Some academies offer practice exams for students to try before taking the official licensing exam. If this is not available, however, students can locate practice exams via the internet. Sometimes the state board itself offers practice exams.
Back to the Top

What Are the Different Types of Schools?
Beauty is a field that offers students a wide range of ways to obtain their education. While some fields require a degree in their course of study, beauticians must follow the licensing requirements set by the state board.
Students may choose from online courses, high school classes, or even full degree programs. These choices depend largely on the individual circumstances and desires of every student.
Online Schools – For students that cannot attend school in person, online classes offer a big advantage. Students can complete their coursework where they live, either via video and testing or through correspondence courses. It is important to realize that only part of your credits will be available via online training. Most classes will still need to be done in person; it is the nature of the training that hands-on experience will be necessary.
Some schools require students to learn at a set pace. Others allow students to work at their own pace. You should make sure that the classes for any courses meet the requirements of the state regulators before committing to a course of study. Again, it is important to know that in almost all cases at least some in-school training will be required. Often night cosmetology classes can be taken if you can't do day times.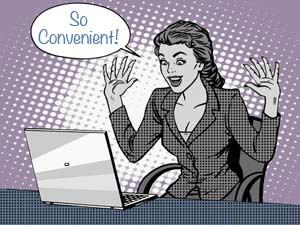 High Schools – Some students know at an early age that they want to pursue a career in the beauty industry. Those students can often take technical center training offered by their school district.
Students should ask their guidance counsellor or school district representative if such a program is available in their area. If such a program is not available, some high schools can offer credit for courses taken online. Again, students should make sure that this is available through their district before getting too far in planning. High schools can provide the perfect fit for budding cosmetologists. It's also possible to train after hours at night school.
College vs School – A common question for those wanting to study the beauty arts is the difference between studying at a college versus a school. The short answer to this dilemma is that schools often only offer certification rather than a degree. Local beauty or technical colleges frequently offer an Associate's degree in cosmetology.
For some students — especially those who wish to continue their education and receive a Bachelor's degree in a related field — getting an Associate's degree can help that goal along. For those who simply want the certification and the hours and salon experience needed to take the licensing exam, an actual degree may not be as important a factor.
Back to the Top
The Best Schools
When students decide to study the beauty they want to go to the best school that they can afford. Some schools only offer training to local students. Others have distance learning programs that allow students from all over to attend. It pays to research more than one place before committing to a course of study.
Choosing the top or best school to study is a personal matter — relying on school reviews from outside sources can be a good start, but it can't replace visiting the school to check it out.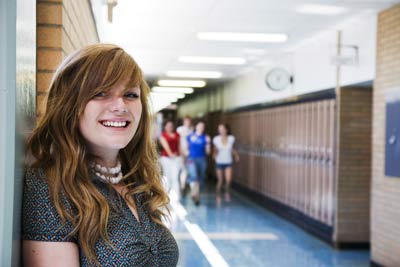 What may be a great fit for one student can be not so good for another. One person may prefer a school with small class sizes founded and run by locally born, raised, and trained professionals. Another might prefer a school with many branches in different states, and partly rely upon a school's good reviews.
No matter what schools you're interested in, checking them out before you give them the chance to examine you is essential! Again, what may be the best academy or college for someone else may not be the best for you; it is important to do your own research.
Many schools offer prospective students the chance to visit and take a tour — this is highly recommended! If you visit a school and talk to everyone there you will get a good feel for the school. Some questions you might ask yourself are:
Do people seem engaged and happy?
When you speak to instructors do they seem passionate about their work?
Are the students enthusiastic about what they are learning?
Are there night classes or part-time programs?
Some of these questions are hard to answer without an actual school tour. The "feel" of a school is one of the most important considerations when you are searching for your own personal top place to study.
Note: Recently both beauty school chains Marinello and Regency closed doors permanently. Marinello closed during the middle of their term leaving thousands of students with a big hiccup in their training. Unfortunately federal authorities alleged the school's allocation of students financial aid was questionable. In Regency's case they voluntarily closed due to financial problems and all their students all of a sudden had their classes stopped. Moral of the story? Even the apparently best schools can't 100% guarantee you anything.
Back to the Top
How Much Does It Cost To Get Training?

Much of the financial end of attending classes depends on the type of school the student wishes to attend as well as the course of study. When students first ask, "How much does school cost?" they may not know what to include within that total. Tuition is just the beginning of the school cost, with other variables being more under the control of the student.
Cosmetology Tuition – Depending on the school, students may face a lump-sum tuition bill or they may be able to pay by the course, or by semester. Attending a smaller community college is less expensive than attending a larger school with a big reputation. Some schools offer scholarships or financial aid, but there are other options as well. If a student is employed already, it is a good idea to see if her current employer offers tuition reimbursement, just on the chance that she may be able to take advantage of that benefit. School Supplies – One factor that many students overlook when they are investigating the question "How much is does it cost to train?" is the additional supplies needed for practical application.
Some schools offer kits to their students as part of the tuition. Others offer supply kits for individual purchase. Still other places provide a list of necessary materials and allow students to purchase those items on their own.
Regardless, hairstyling and makeup skills do require practice, and the cost for supplies at school can add up quickly. Many supply stores offer discounted rates to students, so it pays to ask about that option.
Textbooks – Brick and mortar colleges may require students to purchase specific textbooks. Not all schools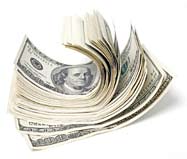 require this, but it is something for students to consider. Online schools may only necessitate reading the school's materials and watching video courses, but textbooks are handy for reference later. Textbook pricing ranges from cheap manuals to larger books that can cost a lot.
Licensing – Each state regulator in the U.S. charges a fee to take the licensing exam. Usually there's an additional fee for the license itself. Financial aid often doesn't cover these charges, so students must pay these on their own.
Some states also charge fees for renewing licenses. There may also be a requirement for students to provide proof of continuing education hours. In all, the cost for obtaining and maintaining a license can range up to several hundred dollars.
Back to the Top

Cosmetology Scholarships and Financial Aid
Paying for any type of education is expensive. Students who cannot pay for the school of their choice all at once do have more options available than they may think. Students should check into options available through the school itself, professional organizations, and state and federal options. All may help to reduce some or all costs.
Loans – The downside to loans as a means of financial aid is that they must be repaid after a certain amount of time.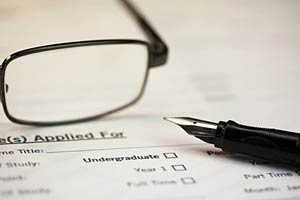 Often a loan is paid directly to the school rather than the student, and there may be conditions about how exactly the funds can be used.
Students may be able to secure a loan through various organizations. They may be able to take out a personal loan through a bank, which may get them better repayment terms.
Scholarships and Grants – Scholarships are more common than students may believe. Professional beauty organizations are a good place to start — a web search will find you many. Students must apply for these scholarships, and the application requirements vary according to the organization and the specific scholarship. Grants, which work in a similar manner as scholarships, may also be available. The ACE Grant, or the Access to Cosmetology Education Grant, is just one of these grants. Neither scholarships nor grants must be repaid by students. This makes them an attractive method of financing.
Individual academies may also offer scholarships or grants to students. These can be based on merit, financial need, or other factors. An application for a specific scholarship or grant is required, and students may need to submit several applications for each available option. Beauty students who want to attend a specific school should contact the school directly to inquire about financial aid offerings. Often students miss out on these types of aid packages because they are not aware that they exist.
Federal Financial Aid – Many students are aware of federal financial aid for traditional colleges and universities. Few are aware that these methods can also help them to pay for cosmetology certification. Grants such as the Pell Grant cover tuition and books, and are based on eligibility requirements.
To receive federal financial aid, students must fill out a FAFSA form, or a Free Application for Federal Student Aid. Much of the federal financial aid granted to students is based on financial need; applicants will need to provide financial information along with the form to find out if they qualify.
State Financial Aid – Some states may also offer financial aid to students hoping to study in hair and makeup related fields. This works in much the same way as federal financial aid does, and students may be required to submit a FAFSA as well, simply because the states are familiar with this federal form.
State financial aid is often lower than federal amounts, but is typically also based on financial need. Students who do not qualify for state financial aid may be referred to specific state grants that can help them to defray the costs of schooling.
Back to the Top
Careers
The U. S. Bureau of Labor Statistics predicts that careers in cosmetology overall will grow by approximately 13 percent by the year 2022. Individual disciplines show different degrees of growth. Examples include: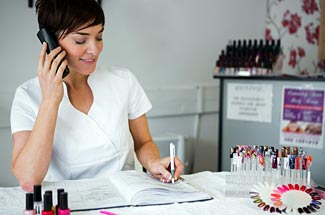 Hair stylists and hair dressers increasing by 12 percent.
Makeup artists increasing by 40 percent.
Estheticians increasing by 34 percent.
Nail technicians increasing by 28 percent.
This growth is largely due to the fact that consumers are willing to pay specialists in skin care, hair care, and nail care for their skills. These services are a way for consumers to pamper themselves and to relieve stress. The fact that estimates show growth in these areas rather than loss means that those with any type of beauty license may be able to provide quite well for themselves once their business is established.
Fields of Specialty – Those choosing the field of cosmetology are educated in a wide range of skill sets. Those who choose to specialize go through more intense training to develop certain skills in hair, skin, or nail care. Those who choose not to specialize may prefer to manage a salon or own their own. Specialty career options can include:
Hair dressers and stylists
Barbers
Nail technicians and manicurists
Estheticians
Electrolysis experts
Makeup artists
Salary
| | | | | | |
| --- | --- | --- | --- | --- | --- |
| | Hair Dressers | Barbers | Nail Technicians | Estheticians | Theatrical Makeup Artists |
| Low | $8.47 | $8.62 | $8.78 | $8.80 | $9.34 |
| Median | $11.38 | $11.95 | $10.01 | $14.47 | $25.59 |
| High | $22.79 | $22.79 | $16.32 | $29.49 | $58.71 |
Salaries vary depending on factors such as location, specialty, and experience.
Many people who work in salons also receive tips
, which are counted separately from their normal average wage. Other variations in yearly salaries can trace back to variables such as bonus structures from employers and whether or not the beautician is an employee or an independent contractor. The chart details some information about hourly salaries from the
U. S. Bureau of Labor Statistics
.
Those wishing to start a career in beauty can expect their hourly wages to increase as they gain experience and clientele. Location also has quite a bit to do with expected salary ranges. Those in smaller or more rural areas may not be able to command the same rates as their sisters in big cities.
Growing the client base is a consistent goal across all the specialties — whether makeup, nail, hair styling or esthetics — since this is one way to increase the rate of pay. Other methods of making more can include working for employers who offer commission-based salaries, and starting your own business.
Overall, the field of cosmetology, and its related professions, can provide a good income. The key is to choose good schooling and to continue learning and growing in the field. The industry is constantly growing and changing in terms of styles and trends. Those who choose can even turn their beginning success with their career into even more advanced careers, such as training new cosmetologists or owning their own salons. The possibilities are endless and the career options opened up by becoming a licensed professional continue to grow year after year. It all starts with a good education.
Feel Free to Share this Infographic On Your Site: copy and Paste the Code Below