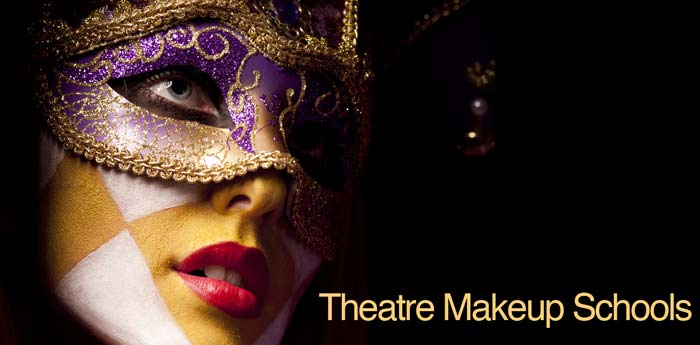 Makeup intended for use in the theater is vastly different from makeup that you might wear out and about or even for a special occasion. If you're looking for a career in the makeup artist industry, then theatrical makeup schools can train you for a niche that can prove quite lucrative. Ener your ZIP to find places to train in your area or continue reading below.
There are a lot of opportunities, and plenty of room for advancement as well as well as fascinating things to learn in high definition (HD) makeup for film and TV as well as special effects (SFX) techniques.
Theater Makeup Types
Even in the realm of theatrical makeup, there are different varieties. Each is necessary due to the different demands required by stage, television, and film. Different actors and actresses also prefer different types of makeup in order to perfect their look. As a result there are a variety of tools in a theater makeup artist's tool kit. See what's in a theater makeup artist's kit.

| | |
| --- | --- |
| Cake Makeup | Cake makeup is a drier type of makeup that can also come in a powder format. For some applications, wetting the applicator or the makeup can produce different looks. It takes some skill to apply without streaking, but it's necessary for some situations. |
| HD Makeup | HD makeup got its name because news anchors and others who are filmed using HD cameras needed makeup that could make their skin look flawless. It smooths pores and can look as silky as airbrushed makeup. HD Makeup is an excellent choice for close up situations. Check HD Makeup prices on Amazon. |
| Greasepaint | Greasepaint is one of the oldest forms of theatrical makeup around. It's oil-based and extremely thick. It's also easy to apply and difficult to apply incorrectly. Greasepaint is a little difficult to remove, and sensitive skin can have problems with it, especially when worn long term. |
| Special Effects | A niche branch of theatrical makeup includes special effects makeup. This is makeup that can look like anything from an aging character to injuries and science fiction characters. |
Theatrical Makeup Schools

If you're thinking about becoming a theatrical makeup artist, then the first thing you need to do is locate a school. When looking for a school for theatrical makeup, it's a good idea to consider location. Any school in a large metropolitan area that has a strong theater, film, or television presence—such as New York or Hollywood—is likely to be a good choice. If you cannot relocate, however, it's important to note that some larger schools do offer online programs.
EI School of Professional Makeup – The EI School of Professional Makeup offers courses in a variety of different makeup styles ranging from bridal makeup to corrective makeup and beyond. They also have courses in theater makeup, so they are definitely a school to consider. Located in Hollywood, EI School of Professional Makeup has decades of experience in training students for the stage and screen as well.
Joe Blasco Makeup School – Also located in Hollywood, the Joe Blasco Makeup School is nestled in the heart of the theatre district in Los Angeles. Another location in Orlando, FL offers students additional access to theme park makeup. Students at the Joe Blasco Makeup School can find courses in everything from stage makeup to prosthetics and other special effects techniques. The school has been open since 1980, making it a longtime member of the theatrical makeup community.
Make-Up Designory – The Make-Up Designory is unique from the standpoint that it has two main campuses, one in LA and the other in New York. The New York campus includes courses that focus on makeup for the fashion industry as well as HD makeup for film, stage, and television.

Theatrical Makeup Classes
In general, most theater makeup schools must adhere to standards that are set forth by each state's board of cosmetology. This is because the cosmetology board actually certifies the makeup artists, and they have strict requirements for what that certification entails. While sometimes the course content may be presented in a different order or manner, students will still complete the program with the number of required hours in each subject that the board of cosmetology expects.
Theatrical makeup artist schools give their students a list of items to have in their kit, and then offer instruction in the best ways to use these products. A few schools have partnerships with theatrical makeup manufacturers and may include a full kit as a portion of tuition.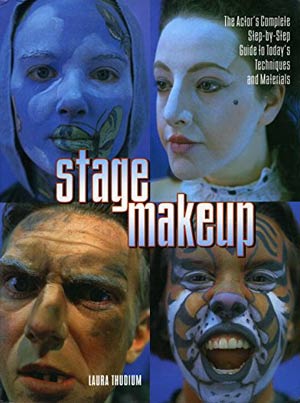 Some of the courses that you can expect to take at a theatre makeup school may include:
Theatrical hair and makeup
Film makeup including high definition
Stage makeup
Television makeup
Fashion and runway makeup
Special effects makeup
Airbrush makeup
Each portion of the training program that you choose offers you general training in the topic at hand, moving to specific techniques and skills. Throughout the program, students have the opportunity to complete assignments that allow them to demonstrate their understanding of the skills.
As you work through the program, you'll also build a portfolio that you can use later to help in your job hunt. Practice is the most important aspect of learning any skill, and you'll have plenty of opportunities to practice what you learn in theatrical makeup classes.
Theatre Makeup Artists Duties and Opportunities
As a theatrical makeup artist, you might work in one location for many years or on a different stage production or movie set every week. The choice is truly yours and you can have as stable a working situation as you prefer. In some situations, you might be the only makeup artist working on a production while in others you may work as part of a team and have several assistants.
Your tasks could include researching the makeup and hair for a particular time period or simply work from notes provided to you by the director or the production designer. You'll also be expected to take notes and photos of your work so that you can recreate a particular character's look exactly from one day to another. This helps to maintain consistency on the set.
Required reading for Theatrical Makeup students!
Employment Outlook & Salary
According to the United States Bureau of Labor and Statistics, being a makeup artist who specializes in any sort of theatrical makeup is a growing field. The average yearly wage can vary widely depending on the location and the type of makeup services that you provide.
The highest concentration of employed theatrical makeup artists tend to center around major metropolitan areas with a strong theater or film industry, but you really could live anywhere you preferred and commute to work assignments as they became available.
In all, the job of a theatrical makeup artist is exciting and lucrative. You have your choice of specializations, and you may find that you want to experience each type of theatrical makeup before you decide to settle on one particular style.
Schools mentioned on this page: EI, Joe Blasco, Make-up Designory