Find a school in your state further down this page, or simply keep reading.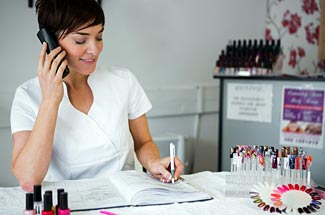 At some point, most people have spent time in the chair of a nail technologist/manicurist, but it is not always obvious what these talented people do exactly. There is a lot more to the training than just decorating and cleaning nails.
Nail technology/manicuring is one of the easiest beauty trades to get certified in. That doesn't mean it doesn't require a lot of talent, but because the skill is so focused on such a small part of the body, the time required for training in schools is shorter.
Find out what you'll learn, how much it costs, and what you can expect in salary and commissions, as well as how to find good nail technician schools. There are a lot of options in this line of work… have you ever thought of being a mobile nail care specialist or starting your own salon?…

It is also good to know just what tools and supplies a professional requires for competently looking after clients.
On This Page
• What is a Nail Tech (NT)?
• How to become a Nail Technician
• Nail Technician Schools Online
• Nail Technician Schools Costs
• How to get a Nail License or Certification
• Nail technician Salary and Jobs
• List of Schools by State and Province
Enter your ZIP below to find a good school near you.
Doing the proper research is essential for any career. It is especially important when considering any type of service career.
Those interested must make sure that they cover all the bases: from education and choosing one of the many nail training schools, all the way through to licensure.

What Is a Nail Tech and What Types of NT Are There?
Before considering choosing a school, you've obviously asked yourself, "What exactly is a nail tech?"

The simple answer you've probably come up with is that they are specialists within the field of cosmetology. They have a good understanding of nail growth and care and help their clients to solve problems with their nails.
They also apply nail treatments and polishes to their client's nails. Some of these treatments are designed to help improve the nail's texture and overall health. Others are purely cosmetic, such as base coats for nail polish. Sometimes simple hand massages will be performed as well, but nothing along the lines of the specialized training that you can acquire training as a massage therapist.
Nail specialists have the opportunity to be creative with their tasks. Often a manicure does not end with simply having the nails trimmed and filed. Customers like to express their personalities with nail art of all kinds. A good technician can help their clients reach that goal.
| Term | Definition |
| --- | --- |
| Nail Tech/technician | They shape, clean and polish customers' fingernails and toenails. |
| Nail Technologist | Same as Nail Tech |
| Manicurist | Almost the same as a nail tech but not necessarily school-trained - depends on the state or province |
| Medical NT | They have extra training in order to work in a podiatrist's office or other medical setting. |
| Advanced NT | They have extra training to work with the elderly, infirm, and others requiring special care. |
Many work with acrylic or gel nails, as well as a variety of polishes and add-on items that attach to the nail with glue.
Some even become proficient with other artistic techniques, such as airbrushing (makeup pros use airbrushes too) freehand designs onto the nails of their customers. Once complete a manicure from a trained expert can be a work of art.
While most graduates from nail schools work in nail or hair salons, another type works with podiatrists or other doctors. Medical Nail Technicians — MNTs — assist in diagnosing diseases and helping with persistent problems such as severe hangnails. Left untreated, hangnails can cause infections and pain. Nail techs who specialize in medical treatments for nails can teach their clients how to handle these problems and prevent them in the future.
Advanced Nail Techs (ANTs)
ANTs complete additional coursework. Not all schools teach advanced nail technician courses, so it is important to know if prospective nail schools offer the necessary courses.
ANTs may work in salons or independently. Often, because of their advanced skills, podiatrists may recommend their clients to an ANT for post-treatment sessions. During this time, the client may not need medical treatment any longer. The technician has the skills and training necessary to recognize problems before they become serious.
Watch the video below to learn about one woman's point of view on being a nail technician. Once school is finished, you have a lot to look forward to.

Manicurists
can choose to specialize in one or more subsets of nail care that are of interest to them. One who prefers to do only nail art can gear his or her services in that manner so that the clients know what to expect.
Those who prefer the diagnosis and cure aspect of nail care may work just with podiatrists and other doctors. They forego adding any of the artistic services that others offer in the salon setting. The profession offers lots of room for offering personalized services.
Go to Top Page

How to Become a Nail Tech (NT)

Although it's tempting to go out and apply for a job simply based on personal experience with nails, becoming certified is a more formal process than that.
The first step is choosing among the different nail/manicurist schools — either vocational or cosmetological — that offer training toward getting a nail tech certification.
If a potential student knows others in the field, they may even want to ask them where they obtained their training. Some programs may require courses that offer an overview of all of the subsets of cosmetology, including hair, skin, and nail care. Others allow students to specialize from the very beginning of their coursework.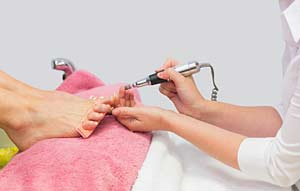 Students who want to learn how to become a manicurist need to follow the same general framework. Some states have different certification requirements than they do for nail technologists. Aspiring manicurists should carefully review those requirements with their state board of licensing before they begin coursework at a school. Doing so ensures that they will be able to meet those requirements on completion of their course of study.
Those looking for a career receive hands-on training as well as classroom instruction while in school. This helps to make sure that students not only learn what they need to know in order to be successful but that they are able to develop skills related to what they have learned.
Sometimes the students work on each other's nails. At other times, and at more advanced levels, they are able to practice their skills on clients who pay a reduced rate.
Some Courses Offered at Nail Schools
Sanitation, both personal and for the public
Nail care and its history
Sterilization of instruments
Chemicals used in nail care
Machines and tools used for nail care
General information about manicures and pedicures
Nail art and nail design
Acrylic and gel sculpting techniques
Applying nail tips, wraps, and extensions
Nail products
Nail diseases, problems, and disorders
Solutions for nail problems
An often overlooked option is business courses geared toward cosmetology and salon ownership. These courses are usually not required for state board licensure. However, they are invaluable for anyone who knows that they intend to open their own salon at some point. These courses can be taken at technical colleges or even in online settings. For some, a degree in business may be an option to consider. Others simply want to acquire the applicable information in order to put it into action later.
Becoming a nail pro means committing to the course of study outlined by both the chosen school and the state board of cosmetology. Some students may need different options. Especially if they are already working full-time jobs and have very little free time to devote to classes. Some students may also have free time only when school is not in session. For those students, alternative methods, such as online schooling, may be necessary. Find out about financing your nail education here.
Go to Top Page
Nail Technician Schools Online
Many students may not think at first about attending schools online, but — unlike online skin care training — it is a viable option. It is an especially tempting option if you can't find a school close to you.
Each state board of cosmetology has different regulations in place to account for this type of school. Therefore it is best for students to check with the board before enrolling in any school. Some boards require a specific number of hours of education to occur in a live setting, although the number of hours may vary.
Another source of information about accreditation for online cosmetology schools and programs is the National Accrediting Commission of Cosmetology Arts and Sciences (NACCAS).
Finding nail schools online is not difficult to do – see our list of schools ordered by state at the bottom of this page. Students should research potential schools before enrolling. It is a good idea to ask questions about the type of coursework and how assignments must be completed. Some online nail schools require students to attend courses at specific times. Most allow students to work at their own pace and at times that are most convenient for them. Convenience is one of the big drawing points when studying online.
Some Example Businesses
Mirage Spa Education Canada – Mirage Spa Education Canada markets itself to stay-at-home moms and students with time restrictions who are looking for a career change. The school does not require students to attend classes at specific times. Instead, the coursework is meant to be completed whenever it is convenient for the student. Since there is no term or semester, students can sign up at any time and begin their coursework immediately. Classes are taught through online videos, and students are required to perform specific tasks. These are done on practice hands, which are then mailed to the school for grading. The instructor mails the hand back to the student, along with a video reviewing the work.
The Academy of Online Nail Design – The Academy of Online Nail Design also offers video courses for its students. Once the student enrolls, which can be done at any time of day or night through the school's website, she has immediate access to all of the courses and video modules. The Academy also has an area set aside in the student's activity area to access tests and assignments, which must be completed before the student can receive a certificate of completion. The Academy also offers products for sale through its website at student rates.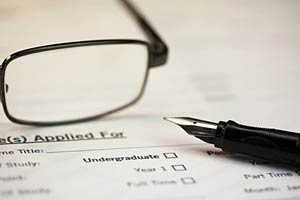 Universal Class – Universal Class is slightly different among online schools for the study of nail technology. The courses are marketed toward working technicians who already have a certificate. The school's lessons count toward Continuing Education Units, or CEUs, for most state boards. This helps to keep a license valid and useable. Students hoping to take advantage of these online Continuing Education credits should check with their state board of cosmetology to ensure that the credits will indeed count toward their licensing.
Local Technical Colleges – More and more technical schools are offering distance learning for students. If attending in-person classes at a community or technical school is not an option, those wishing to obtain licensing should inquire about online classes through the school they want to attend.
This can be available as video courses or even self-paced modules that are completed whenever possible. Sometimes lectures through webinars are available. To meet requirements for practical hours and hands-on application, there may be weekly or monthly in-person meetings that students may be required to attend. This can be easier to work into a busy schedule than regular daily or weekly classes.
This is a good workaround for someone who is already employed full-time but who wants to break into another career field.
Nail Technician Training School Costs
Schools for nail techs vary widely in price for various reasons. As you can see from the small sample in the table below, they can range anywhere from about $1,100 up to more than $3,400, but schools can go as high as $6,000.
When considering the price of a school, check out what they have to offer. The higher cost may be offset by other things that are not included in other schools' tuition.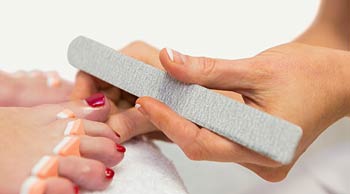 It might be that the program is longer or more detailed. The school facilities may be better. It could be that the college is located in a safer area and is easier to get to. Perhaps the variety of classes is more interesting.
If there are enough good points along with the extra $2,000 you spend, then it could be worth the extra cost for a one-time outlay. When you are paying for something that you will use for years to come on a day-to-day basis, it could be worth it to go for the education that is really right for you.
It might be that the school you like is the less expensive one! It is important to research potential schools well…

How Much Do Nail Technician Schools Cost & How Long Is It?
School Name
Hours
Location
Tuition Cost
Books, Kit, and Supplies
Registration and other fees
Total Price
Lake Technical College
240 hours
Florida
$690
$222 kit
$238 books
$132 supplies
$40 insurance
$133 for various fees
$1455
Beauty Schools of America
240 hours
Florida
$750.00
$275.00
$100.00
$1125.00
Shear Ego
250 hours
New York
$2000.00
$700.00
$100.00
$2800.00
Portland Beauty School
600 hours
Oregon
$2,900 includes all fees books and supplies
included
included
$2,900
Virgil's Beauty College
600 hours
Oklahoma
$5,600
$1,490
$200
$7,290
Dorsey Schools
400 hours
Michigan
$3,000
$3,000 includes books, supplies & fees
How to get a Nail License or Certification
While requirements for a nail technologist's license do vary from region to region, the general process is similar.
Some states require those applying for a license to be of a certain age and to have a high school diploma, or the equivalent, before granting a license.
There is also a requirement to obtain a specific number of both classroom and practical hours, which can be completed in any school that offers coursework that correlates with the hour requirements. Finally, prospective technologists must take a licensing exam.
Coursework – Before enrolling in nail schools, those looking for a nail license need to do their due diligence and compare the coursework to the state board's requirements. Some state boards can even offer a list of schools that meet the requirements! Once enrolled, it is the student's responsibility to attend and pass all classes.
Students should ask the school they expect to attend if they can take a tour of the facilities. This is a great way to determine whether the school's atmosphere fits your hopes. Sitting in on a class or two helps students to see the teachers in action and assess how that instructor's style meshes with their own learning style. If students are considering online nail schools, they should ask whether sample courses are available.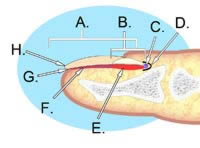 Practical Application – Some state boards of cosmetology require a specific number of hours during which applicants for a nail license have put what they have learned into use on actual clients. In some cases, this is done formally through the school itself, while in others, this can be done on a more informal basis.
Students interested in becoming nail professionals may have friends and family who are willing to be guinea pigs for the different skills that the student is learning. Occasionally these volunteer hours may qualify toward practical hours. Students may also be able to find salons that offer internships to those interested in becoming a nail tech. These internship hours can apply to practical requirements.
Licensing
Licensing Exam – The licensing exam for a nail student is most often a written exam delivered in the form of multiple choice questions. The questions range from the history and basics of nail care to nutrition questions. Applicants should also expect to see questions about nail diseases and cures. As well, questions about full body ailments that are visible via the nail and the nail bed may be asked.
Those applying for a nail tech license can find practice exams online. You should also be able to find practice questions available through your chosen school. Students must pass the licensing exam in order to obtain a license. In some areas, students have a limited number of times that they may take the exam within specific dates.
Licensing Fees – Each state board has different fee requirements for a nail license. Often this fee must be paid after successfully passing the licensing exam in order to receive the physical copy of the license.
Some states also require a fee when renewing the nail tech license. If the license is not renewed by the date noted on the license itself, it will expire. In order to legally continue to work as a nail tech, the license must be reinstated. Often it is less expensive to renew the license than it is to pay for reinstatement. In some states, reinstatement also requires that the nail tech retake the licensing exam, which results in another fee for the exam itself.
Continuing Education – To maintain licensing status, state boards of cosmetology often require that nail techs take a specific number of hours of courses to continue their training. This requirement is useful because it exposes the nail tech to new information and reminds him or her of information he or she may have forgotten… read more.
Another benefit of continuing education is that techs are simply able to put out a better product for their clientele. Continuing education keeps that flame for learning and exploring the topic of nail care and nail artistry alive.
Nail Tech Salary and Jobs
Becoming a nail tech is a good choice for someone looking for a solid career.
The Bureau of Labor and Statistics states that employment opportunities are expected to continue growing between 2012 and 2022 at a rate of 16 percent overall. New services and opportunities are constantly needed within this profession, such as those who work in the relatively new field of mobile manicures.
As consumers focus on improving their overall health and well-being, more of them seek out manicurists who can help them to do that. Nail tech jobs, much like jobs in other professions, are in the process of evolving to meet customers' needs.
A mobile manicurist comes to his or her clients wherever is convenient for them.  Often this means visiting the customer at home or at work and performing nail services there. This means that the manicurist needs to be flexible, but she can also charge more for her services to account for travel time, fuel costs, and wear and tear on her vehicle.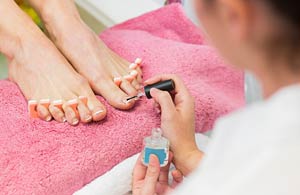 Since clients are not waiting in a waiting area for her, time management can be a big issue for this type of nail tech. For a manicurist who wants to have full control over her schedule, however, this can be a rewarding way to do business. Mobile manicurists have the same training and go to the same schools that other students go to.
As a nail tech, your salary and tips will vary from place to place. As you would expect, you will usually earn more in urban areas, but living expenses are usually higher in cities too. In the US, you can expect to earn around $19,000 as a starting salary. That amount will grow as you gain experience and add new techniques to your repertoire. Once you establish a number of regular clients, you might consider opening your own salon — there is nothing like being your own boss!
| | |
| --- | --- |
| Per hour | $8.78 – $16.32/hr median $10.01 |
| Tips | $1.00 – $7.50/hr |
| Commission | Those who work by commission make up to $30,000/yr |
| Yearly | $15,800 up to $48,000 with median being $20,820 |
So What Are The Jobs Like?
Nail tech jobs within a salon and working with estheticians and others typically consist of two types: booth rental and salaried.
Those who make a salary are considered employees, and they are usually paid an agreed-upon hourly rate.
Another option is to be paid on commission based on the amount of sales they make per month.
Jobs with a booth rental salon may also be paid a commission, but more often, they are paid directly by the customer. They then pay a rental fee to the salon owner in exchange for running their business out of the salon.

At a certain point, a nail tech may decide that it is time to expand her business even further. This can mean striking out on her own as a single operator. It can also mean starting her own salon and hiring people to fill manicurist jobs within her own business.
Conclusion
No doubt, the Covid-19 situation in the past has had an effect on both schools and working manicurists. Many have adapted, and some even thrived with the changes. At the very least, it has been a good time to reassess and study new skills. Those who've worked hard to gain skills will soon find their time is not wasted.
Go to Top Page
In all, the nail care field offers plenty of potential for growth, both personally and financially. Manicures and pedicures are thought of as a rather low-cost luxury still. Since people love to pamper themselves every now and then [or quite often!], the customer base will continue to exist. Successful technologists will stretch beyond their initial education and learn how to offer the services their customers want and need to keep them coming back.
Go to Top Page