You can easily find a school close to you by
entering your ZIP further down this page
.
Once you decide that you want to go into the cosmetology field, you're faced with a lot of other choices all at once. Where do you want to go to school to learn about cosmetology and beauty-related fields? Do you want to attend classes virtually or in person? And if you're attending in person, then most importantly, "Where are the beauty schools near me?" All of these questions are a lot easier to answer once you find the resources you need on our website.
• "Cosmetology Schools Near Me"
• "Nail Schools Near Me"
• "Barber Schools Near Me"
• "Makeup Schools Near Me"
• "Esthetician Schools Near Me"
Enter your ZIP below to see where you can train nearby to become a licensed cosmetologist.

Educate Yourself
There are a ton of different options available to you when you first start looking at beauty schools. The first thing you need to determine is what type of beauty school you're interested in. Are you looking for a general education and certification, or are you looking for something specific right out of the gate? That can really dictate your next move. For instance, schools for manicurists focus solely on that aspect of beauty. If you're looking for more generalized knowledge, then a manicure academy isn't the right school for you.
On Our World Is Beauty you have a wealth of information that helps you sort out what you really want, even if you aren't sure of that yet yourself. Before you even get to the point where you're deciding where to go, you have the information you need to determine the right types of schools to search for. Whether it's esthetician school or manicure school, there's a big difference and you need to educate yourself about what to expect from each discipline.

Cosmetology Schools in Your Area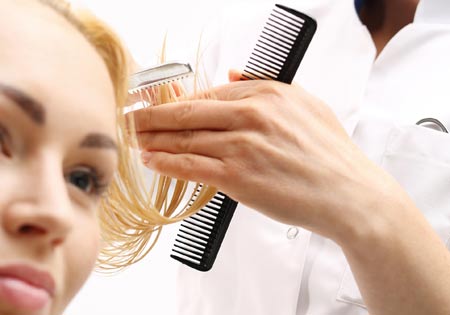 There are several different names for cosmetology schools. Where you live can determine if you call them hair schools, hair salon schools, beauty colleges, cosmetology classes, or beauty schools. Whatever you call them the idea is the same.
It is easy to find a place to train near you by entering your ZIP in our on-page app.
Usually cosmetology training is intended to give you an overview of different beauty skills by training you in all of them. Typically the main focus will be hair styling and cutting but you will usually touch on makeup, esthetics, and nail technology as well.
If you are lucky there will be a school or college close by in your home town or state that you already know about. Maybe you even know some people who already have their cosmetology license and can ask them for advice.
If not, you can look at listings on our state and provincial pages by clicking the location's link below:

Beauty Colleges & Schools State Listings

Canadian Provinces
Though it varies from state to state and province to province there are certain classes that you are likely to take at your nearby school. The compulsory curriculum is usually determined by the local state board. Below is a sample of the different areas of study and training you are likely to go through as you progress:
Academic: Disease & infection control, chemistry, electrical and light therapy, beauty anatomy and physiology
Hairstyling: Hair cutting, hair colouring and chemicals, hair treatments
Other Techniques: esthetics, makeup application, manicures and nail art
Professional Development: Client communication, employee/employer relations, wages & salaries, license laws and requirements, small business management, possibly psy-cosmetology
Nail Schools Close to You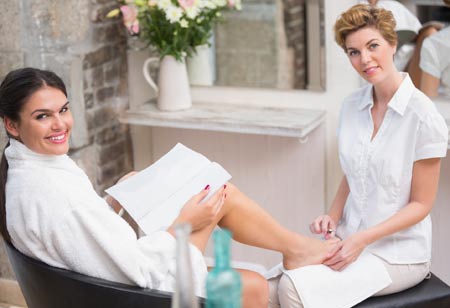 Nail tech schools are often found as part of larger beauty schools. When you get your cosmetology certificate and training you will most likely learn a lot about nail care as well.
Usually you will be able to get training in manicures and nail art without having to go through a complete cosmetology program. A beauty education aimed at learning just nail care will typically be a lot shorter than a comprehensive beauty program that includes makeup, hair cutting and styling, and skin care as well.
Depending on the state you could spend anywhere from zero hours in Connecticut (no license is required) to 400 hours in California to prepare for your state licensing exams.
When searching for "nail schools near me" it is super-easy to locate them by entering your ZIP in our school finding app on this page.
Another option which is open to any potential student no matter what their location is online training. While some of the other beauty arts will required in-person training at an actual physical school, it is possible to do manicure and nail art programs right at home. This is an especially good option for those who have many time constraints and scheduling difficulties or can't find a school nearby.

Some of the
courses
you will likely take as part of your nail training include:
Anatomy and physiology – did you know that the hands and feet taken together contain more than half the bones in the body?
Recognition of diseases and disorders – if a condition is serious referring the client to a doctor for diagnosis is necessary
Sanitation and hygiene – keeping yourself and your client safe is paramount!
Manicures and pedicures – of course!
Special spa treaments – hand and foot massage, etc.
Nail art – laquering, acrylic, free-hand artistry, gels, studs, and so on.
Professional practices – learning about ethics as well as running a business.
Nearby Barber Schools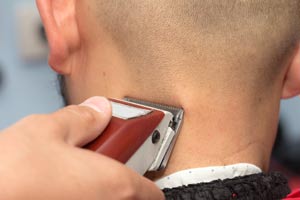 Barber colleges near you will be a bit different from the other beauty colleges mentioned on this page. While cosmetology, nail, and makeup artist schools are more geared towards women, barber schools are primarily male-oriented. That's not to say that women aren't sometimes clients of barber shops or don't work in barber shops, but just that barbers and their clientele are more commonly men.
Find a school offering barber classes in your area by entering your ZIP in our school finding app on this page. Sometimes barber classes will be offered by the same schools that train cosmetologists, etc. (For example PSC)
Most states do require a license to be a professional barber. The time it takes to actually train in school can vary widely. In New York, for instance, it takes only 288 hours before you are considered ready for your licensing exam. On the other hand, some places in Canada may have 2000 hours of schooling!
Check out schools in your state or province using the links in the table below:

Barber Colleges & Schools State Listings

Canadian Provinces
Here are some examples of areas of training that may be offered in your local barber shop school:
Learn about the ideas and personality traits which are will help you be successful working with clients and co-workers in a barber's environment.
Study anatomy and physiology as well as artistic principles relevant to barbering.
Become proficient in the physical skills used in barbering such that you will pass any necessary state board exams.
Learn the fundamentals of barber shop management and care and maintenance of equipment and supplies.
Learn and practice safety and sanitation methods at all times for the sake of your and your client's health.
"Are There Makeup Classes Near Me?"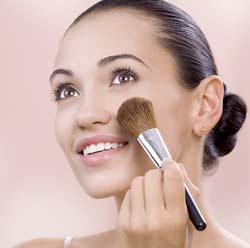 As with nail tech and esthetician training, makeup artist programs can be taken separately from a general cosmetology course.
You will definitely touch on the use of cosmetics and makeup when you go to a general beauty college, but if you want to specialize in makeup artistry you must go to a school that offers a dedicated makeup program. Many institutes and colleges that offer cosmetology training will also have this option, so finding one close to you should not be a problem.
Find a school offering makeup classes in your area by entering your ZIP in our school finding app on this page.

Makeup Colleges & Schools State Listings

Canadian Provinces
You can expect to learn about some of the following topics in makeup artist schools close by:
Color theory and makeup application
Techniques including blending, highlighting, shading and contouring
Tool use – what are all those brushes and devices really for?
Different makeup styles including: glamour, bridal, photographic, everyday, and runway
Working in a salon – how to make it a great experience for both you and your client
Freelance work as a makeup artist and starting your own business
Narrow Down Your Choices
Now that you have a better understanding about what each term means and what the different professions within the field of cosmetology entail, you can narrow down your specialty even further. Our World Is Beauty helps you to do that because it has pages devoted to giving you as much information as possible about each sub-specialty (e.g., theatrical makeup artistry) and where those schools are located. You can also learn about future job prospects, what you can expect to earn, and what a typical day is likely to be like.
Clarify Your Options
Some people find that when they learn more about some of the specialties within the field of cosmetology, they want to study something different than they originally thought. For example, if you wanted to train to be a makeup artist, you may find that makeup artistry is only one aspect of the future career that you are interested in. Esthetic programs offer training in makeup artistry, but also in more in-depth skincare and skin treatments. Learning that type of information about available programs helps you to solidify what you want to end up doing once you graduate from beauty school.
Search by Location
Our World Is Beauty
gives you a way to find just the right beauty school for you. Once you know your specialty, or that you want to stick with overall cosmetology, simply click the link that allows you to
search by state
. From there, take a look at all the different options nearby. You might be surprised to learn that there are far more choices in your immediate area for
cosmetology programs
than you thought there might be.
Do Your Research
After you find a school that you think you might like, use the resources provided on Our World Is Beauty to give you a leg up. Head to the school's website via the link provided, and do your homework. Take a look at the courses offered and the different programs the school provides. Some schools even post syllabi for courses or videos offering you a virtual lesson or a virtual tour of the school. Get as much information as possible to make sure you sign up for the right school for you.
Just like any big decision, going to beauty school is a huge step. It's really important to be able to find a beauty school nearby that gives you exactly the training that you need. With all of the tools available on Our World Is Beauty, it's easy to figure out what you need to do to get the career of your dreams. Now that you have all the information you need, make sure your friends know all about Our World Is Beauty, too.