Find a school near you further down this page.
Makeup is a fantastic way to earn a living. After attending one or more schools or becoming good at it some other way you will have work that:
makes you a good living
helps people feel their best
is creative and artistic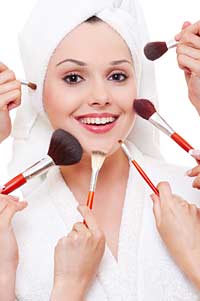 What more could you ask?
You can even choose among many different styles of makeup art: for instance, theatrical, bridal/wedding, special effects, even makeup for cancer patients.
As you get more specialized you will also need more training. That is why you see makeup artist schools for SFX as much as more general programs.
Using cosmetics is usually not regulated like other beauty professions. So, if you are already good at it you can probably start a business without much further instruction. However, there are usually a few good colleges or institutes (or even cosmetology high schools) in every state that can guide you in acquiring skills and starting a career.
Find out below what kind of laws, regulations, and licenses your home state requires for professionals entering the trade.
On this Page:
Listings/directory of Schools by State and Province
Definitions – How to Become a Makeup Artist (MUA)
Online Classes, SFX Schools, Permanent Makeup Training
How Much Do Makeup Artist Schools Cost?
Makeup Specialist Certification
Salary, Job Career and Prospects
Get started by entering a ZIP below to find a good school near you.
Makeup schools first provide the basics of instruction regarding skin care and cosmetic application and removal. Beyond that, specific programs and classes enable students who want training to develop their skills in different disciplines under the umbrella category of makeup artistry. Some students may begin their education at one school for general studies, then move on to another school for instruction in other areas, such as special effects (SFX) or airbrushing.

There is no fixed curriculum for each and every participant and program. There will, however, be similarities within states (due to State Board regulations) and within particular areas of instruction — such as SFX.

Makeup Colleges & Schools State Listings

Canadian Provinces
A Makeup Artist Defined
Makeup artists, or MUA, have as their canvas the human body. They may apply makeup for clients in order to cover imperfections or enhance their natural beauty, or they may apply special effects products for movies, television, or stage. In most locales professionals must be licensed to work in their chosen field, in much the same way as hairdressers and cosmetologists. Some specific types of MUA include:
Cosmetics counter
Salon
Theatrical
Special effects (SFX) or film
Airbrush
Bridal
High definition
Permanent
A student can choose to specialize in one field, or he or she can choose to learn about a variety of specialties. The latter option offers quite a bit of flexibility, while the former option allows the development highly specific skills. Some specialties, such as permanent makeup, require specific training that may not be available everywhere.
Becoming a Makeup Specialist – Many people wonder how to develop into an earning pro. The answer is quite simple. First, a prospective pupil must locate a school that can offer the classroom instruction that he or she needs in order to begin the certification process. Trainees may even opt to find training online. In rare cases some have gained their training via an apprenticeship.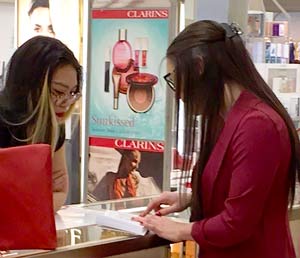 The specific number of hours required depends on the location in which the student hopes to become licensed, since this is governed by each state or province board of cosmetology. Once licensed, students can begin working in their preferred field.
Terminology – classes introduce pupils to a wide variety of terms with which many trainees may not have personal experience. Some of the terminology refers to cosmetic and skin care products that students will apply to clients. Others refer to technical information regarding skin care. Although not exhaustive, the following table defines some common terms one should expect to encounter in the business.
Term
Description
Acne
A condition in which the skin's pores become clogged with dirt, bacteria, and oil and become inflamed.
AHA
Alpha-hydroxy acid, which is a chemical formulation used in anti-aging creams and chemical peels.
Antioxidants
Naturally occurring compounds that inhibit oxidation, which can contribute to aging.
Botanical
Term used to describe

 

a product made from plant extracts.
Dermabrasion
Process during which the upper layers of skin are surgically removed, generally by scraping, to smooth the skin.
Dermal
Of or pertaining to any layer of the skin.
Epidermis
The outermost layers of the skin.
Fitzpatrick Scale
A classification system for the hue and shade of the skin.
Free radicals
Atoms or molecules that are unpaired; widely believed to be the primary cause of premature aging.
Glycolic acid
A specific type of alpha-hydroxy acid found in skin peels.
Hyaluronic acid
A naturally occurring compound in the body; lubricates joints and tissue, including skin.
Matte
Non-shiny surfaces; typically used to describe makeup that is flat and does not reflect light.
Microdermabrasion
Dermabrasion for the upper layers of the skin only; a finer method of exfoliation.
Non-comedogenic
A product that will not clog pores, thereby reducing the risk of an acne breakout.
Toner
An astringent product designed to close the pores of the skin and clean the skin.
Pupils should keep in mind that specific disciplines within the field will have their own terms as well. Those attending special effects schools, for example, will have to learn about prosthetics and other appliances that their models may have to wear. The basics, however, remain the same.
Those who want to become expert in this field have a variety of different ways that they can fulfill that dream. In all cases, there are specific requirements from the state board of cosmetology which include classroom requirements, practical application, and licensing requirements.
Back to the Top
Accredited Makeup Artist Schools – The Different Types
To start, prospective pupils should decide which types of schools appeal most to them. They can seek out technical and vocational schools, cosmetology schools, or even online training programs.
Cosmetology Schools
Many cosmetology schools offer training in makeup application. In some areas, the requirements may be just enough to meet those needed for state licensing. Students choosing this type of school should be aware, however, that they will be learning about cosmetology in general, which means that there will be courses on hair care and cutting as well as skin care and nail care.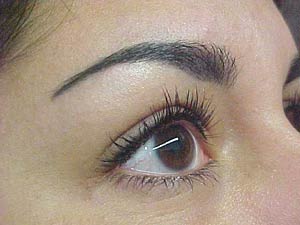 Those who already know that they do not need or want these other skills would do well to choose a different place to learn.
Accredited Schools
MUA schools are more specialized than cosmetology schools. The course of study involves the same general classes that students might expect to take in cosmetology schools, but the techniques should be more advanced. If the state board of cosmetology offers licensing, the school's curriculum should coincide with those requirements. The place you train at may offer certification which confirms that you have completed the prescribed course of study.
Makeup Colleges
In some locations, vocational or technical colleges may offer courses of study. These programs typically offer an actual degree upon completion of the program. An associate's degree and possibly a bachelor's degree may be available for completing these programs. The course of study should be the same. However, in addition to achieving the hours required for state licensing, students are able to point to a college degree which may give added credibility when job-hunting.
Special Effects

Students who wish to become SFX specialists may want to attend a specific school for this type of training. Often the basic beauty training is required before enrolling. As well, some MUA schools offer rudimentary training in special effects techniques.
Students are not required to have any special license in order to enroll in special effects schools. Although there are special effects schools throughout the country, those who wish to make SFX their career would do well to look for a school located in Hollywood or New York City. These areas are hotbeds of activity for television, film, and theatre, so they offer plenty of opportunity for internships and careers in the field.
Permanent Makeup Training
Permanent makeup is a little different from traditional cosmetics. It is applied by the artist with a tattoo tool. Using a tattoo tool requires a steady hand in the artist as it is, well… permanent.
Those who wish to learn the art take courses of study that enables them to apply this type of treatment safely and effectively. Common areas in which clients wish to have permanent makeup include:
Eyeliner
Eyebrows
Lip color and lining
Camouflaging scars and beauty marks
Lash enhancement
Online Makeup Classes

Online schools are perfect for those who cannot attend a traditional study environment for one reason or another. The vast majority of these classes are self-paced, which means that they can be completed whenever time permits.
Some of the lessons may be done through webinar or video, while textbooks may supplement these lessons. Trainees may be required to apply cosmetic makeup to themselves or to other people and submit pictures in order to prove their practical knowledge of specific techniques.
Length of Schooling – Some courses for makeup certification are very short, lasting only a few months. Others are quite lengthy and may last up to four years or more. Often the difference is because of the type of learning institution. Other courses could be longer or shorter based on the type of classes the student has chosen to take.
Special effects programs can be quite lengthy, for example, and many of them are broken up by the pupil applying for and fulfilling internships in between terms.
When examining the curriculum pupils would do well to pay particular attention to the length of study and the anticipated completion date. This can help students to plan the rest of their obligations effectively.
Back to the Top
How Much Does Makeup School Cost?
Tuition could be anywhere from $200 for weekend classes to $20,000 for a full training program. Some places don't require any licensing or certificate so you don't even need to go to school. Makeup courses can be taken little by little in a part-time fashion or full-time at an institute or academy of you choice.
For example, at the high end of pricing, Cosmix School of Makeup Artistry in Florida will charge $18,800 tuition + $2,700 for materials for a 900-hour course. A little lower in expense is the Los Angeles Makeup School with tuition of $2499. Special effects and othe advanced classes will cost more. Accredited online trainers will charge less. Check the table below for a few more examples.

Examples of School Costs to Study Makeup
School Name
Tuition Cost
Length of course
Total
Canvas Makeup Academy - Dearborn Heights, MI
$5,000
8 weeks
$5,000
Pure Glam Makeup Academy - San Antonio, TX
$1,500
28 hours
$1,500
Chic Studios NYC
$4,940
120 hours
$4,940
Vivaluxx - Bellingham, WA
$4,900
384
$7,900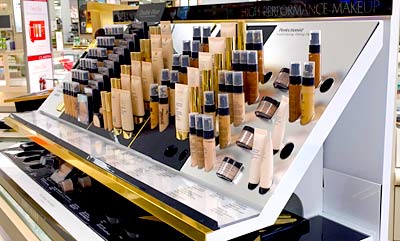 Ultimately you should go to the school you really feel good about and not worry about the money too much. If you base your decision mostly on what you'll have to pay you will end up compromising too much and perhaps regret later. If, on the other hand, you attend the school you really want, then you will feel confident that you got the training you want, and with a good salary can gradually pay back any financial assistance you've accepted.
Keep in mind that what the college charges for the program is not your only cost! You must factor in such things as cosmetics, makeup tools, accomodation, and other living expenses. Sitting down with a pen and paper and writing out all the different scenarios and their associated fees and expenditures will help a lot in coming to a decision.
When coming up with the money to pay for it all don't forget scholarships and grants.

| | |
| --- | --- |
| Cash in full | Unless the tuition is rather low, most students are unable to pay cash in full. Some schools do offer payment plans, so this is something to consider. |
| Scholarships | Schools, professional organizations, and other groups may offer scholarships to specific schools or programs. Students usually must apply for scholarships in order to be considered. Scholarships do not have to be repaid. |
| Grants | Grants also do not need to be repaid, and they can also be found from schools, professional organizations, and other groups. Unlike scholarships, grants may require ongoing proof of certain criteria in order to continue. |
| Federal Loans | The federal government offers financial aid packages for vocational and technical programs as well as for traditional colleges and universities. Students must submit financial information along with their application. Loans must be repaid. |
| State Loans | States may also offer loans applicable to MUA schools. Students must submit an application and financial paperwork. These loans must also be repaid. |
Back to the Top
Makeup Artist Certification
There is more to becoming an expert than simply attending a few classes or watching a few videos. A certified makeup specialist can work in a variety of different arenas, ranging from homes of their clients to movie and television sets. Once a student completes a course of study at an accredited academy devoted to educating artists, she or he needs to obtain respected credentials.
Licensing – Each state board of cosmetology (eg.) has requirements as to what is necessary in order to be certified as a MUA. This includes a set number of hours devoted to both classroom and practical instruction, as well as a licensing exam.
Once students pass the licensing exam they must pay a fee specified by the state board of cosmetology in order to obtain their licenses. Licenses in all states do have expiration dates, so certified professionals need to remain aware of their renewal dates in order to keep their license active.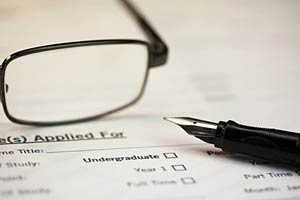 Licensing Exam – The licensing exam is a written test, usually composed of multiple choice questions, that test the prospective licensee's knowledge of her field of choice.
Ideally, the training program the student chose to attend prepared her for the test. Those who are concerned about the licensing exam can find a variety of options that can help.
In some cases practice tests are available that help trainees learn what to expect on the exam. For those who want further practice, or who cannot find a sample test through their academy, can do an Internet search to find an array of sample tests.
Continuing Education – Licensees typically must renew their license either yearly, or at a time specified by the state board. Part of this renewal process almost always requires proof that the specialist has continued her education by taking classes.
This continuance of education makes sure that the makeup artist is always caught up on the latest techniques, products, and skills needed within the field. If licensees have not maintained their continuing education requirements it is possible that the license will not be renewed by the licensing body.
Often the requirements for continuing education consist of only a few hours of coursework, so it can be very easy to maintain this requirement.
Back to the Top
Makeup Specialist Salary, Job Career and Prospects
While many MUAs dream of seeing their work immortalized on the big or even the small screen, the vast majority of those looking for a career work in salons or spas, or for private clients. All of these choices are viable, and some may choose to work in a combination of environments like a freelancer. While they are sought after in just about every location, there are areas in which they are in even greater demand.
Pay – Pay rates vary depending on both location and the type of makeup the artist applies. The areas in which there are the highest concentrations include Hollywood, California and New York City. These areas also tend to have the highest pay rates. The following chart lists some of the average hourly wages collected by the U. S. Bureau of Labor and Statistics, depending upon specific variables. The hourly wage for the lowest 10% of workers is US$9.34 while the highest 10% can earn $58.71/hour. The average of all occupations in this field is $32/hr or $66,560/yr — not bad! The large pay gap depends of several factors including training, experience, choice of makeup career, and even luck!
| | | |
| --- | --- | --- |
| Type of MUA | Average Hourly Wage | Avg. Yearly Wage |
| Personal care, salon or spa | $13.83 | $28,770 |
| Independent performers | $17.51 | |
| Television | n/a | n/a |
| Performing arts, theatrical | $29.92 | $62,230 |
| Film and video | $40.18 | $83,580 |
Updated Feb. 2017
Potential for Growth
The MUA's job description can vary slightly based on where they choose to work. Makeup graduates can have either a flexible career — like a freelancer — or a more defined one depending on whether they chose to specialize or not. Those working in a spa setting often work for commission or a set hourly rate. Those who opt to work as freelancers can literally set their own rates. Prospective students eager to get started in the beauty industry may want to remain open to all of the different possibilities that may come their way.
Back to the Top