Find a school by entering your ZIP further down this page or simply keep reading.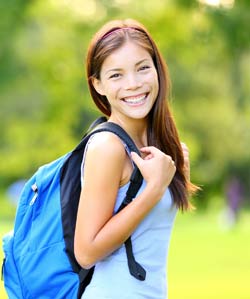 While there are many people who decide to take cosmetology classes as a mid-career switch, there are actually many cosmetology students that have begun taking classes during high school, setting themselves up for a career early on. With high school cosmetology classes, you will be able to graduate with a license already in hand.
On this page:
• Cosmetology Schools for High School Students
• What to Expect from a High School Cosmetology Programs
• What Students Learn in Cosmetology High Schools

Cosmetology Classes
A quick note about the Covid situation: It is hard to get a complete training right now due to the Covid-19 situation in 2021. However, things are looking up and hopefully by fall term regular classes will again be in effect. Now is not a bad time to start searching for a school…

A quick note about the cover situation: It is hard to get a complete training right now due to When you're looking at beauty schools you'll see that students as young as 16 years old can attend. This means that even upperclassmen in high school are able to join in on cosmetology classes while at the same time completing high school.
This is possible as long as the program doesn't require a diploma or GED. Unfortunately, not every school will accept high school students. However, there are a few types that are open to students if the requirements are met.
Vocational Schools
If you happen to go to a vocational high school it's likely that you will be able to attend high school cosmetology. You will be able to study cosmetology while earning a diploma and take practical classes to give you a head start on your career. You will also be able to intern in order to gain experience in hair design, skincare and nail treatments.
Dual Enrolment
Some students enrol in beauty school while still in high school. Moreover, they take some lecture courses during high school to lay groundwork for cosmetology study. If you begin while you're in your junior year of high school it's possible you can even start hands-on training in your senior year.
With enough training you might even be able to try for certification following your graduation. Of course these dual enrolment programs aren't available everywhere. That said it is worth a try to check your state for such programs.
Extra Classes
Just because you've taken cosmetology courses in high school does not meant that you are able to automatically begin your life as a cosmetologist. Most students still need to continue education at a post-secondary beauty college, at least until they test for their cosmetology license.
Classes in high school don't go to waste though. In fact, in some cases those hours can be used for the hours needed to get certification. In the end, taking classes in high school not only provides you with experience, but helps reduce the number of hours you need.
Non-beauty classes you can take that will help you after you graduate include:
creative courses like art and color theory
science classes in anatomy and chemistry
classes that help with communication such as english composition
Preparing for High School Cosmetology
If you already know you want to pursue cosmetology, you may want to prepare for your career while still being in high school. Cosmetology classes for high school students may seem somewhat intimidating, but if your passionate about it you'll do fine, and they can get you ready for an interesting career right after you graduate.
Requirements
In order to join a cosmetology program you must already have a good academic record and be able to complete a full interview process with your teachers. You'll also need genuine enthusiasm for the program as well as a willingness to put in the time, beginning in your junior year.
Fortunately you won't need as much money as you would after graduation at which time you'll likely need aid.
Depending on what state you live in, you'll need a different number of hours before you are able to sit for your exams. For instance, Washington needs 1600 hours, but some areas need as much as 1800 hours.
Be sure to check with the schools in your state about training while still in high school. Click on links to states in the table below…
Beauty Colleges & Schools State Listings

Canadian Provinces
What to Expect from High School Cosmetology Programs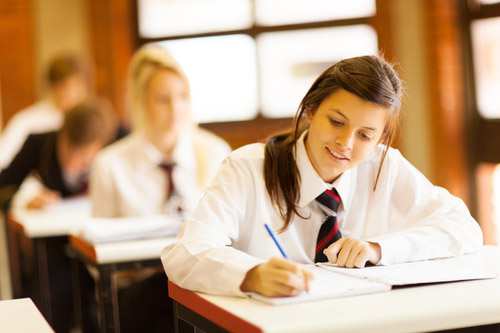 As a high school student, you'll begin slowly since you have to complete your high school classes too. Usually, this means you'll begin in your junior year and will work to acquire the needed hours for your eventual certification. Here's an example of a high school's program.
With a few hours a day, you'll be able to advance to your second year.
At that point, you will be able to move up to hands-on work in order to get your hours more quickly. After you've gotten more or less 1800 hours — which is usually after high school for most students — you will be able to take both the practicum and state exam to get your certification. The program can go at your own pace though, so if you're especially motivated you might even be able to take your exams before you graduate.
As mentioned, remember that the number of hours and requirements are dependent on where you live.
Some schools only offer programs to upper-level students and may therefore have a different curriculum. For the most part though, classes will begin early on and might partially be online.
Here is a list of courses available to high schools that can be taken at San Jacinto College:
First Term
Introduction to Hair-cutting and Related Theory

Fundamentals of Cosmetology
Second Term
Chemical Reformation and Related Theory

Artistry of Hair Design I
Third Term
Artistry of Hair Design II

Principles of Hair Colour and Related Theory
Fourth Term
Prep for State Licensing Written Examination

Prep for State Licensing Practical Examination

Advanced Haircutting & Related Theory
What Students Learn in Cosmetology High Schools
If you want to enrol in a cosmetology high school, search "cosmetology schools near me" to find one that's easy to go to. As soon as you begin, you'll notice that you learn the topics that every cosmetology student learns. This includes general information on:
hair care
coloring
skin care
makeup application and removal
You may even learn massage depending on the school.
As you get farther in the program you will be able to mix and match your interests to find something that you're truly passionate about. You'll then be able to move on to practical classes that are meant to assist you in hands-on experience.
These types of experiences can allow you to move onto a post-secondary cosmetology school early after graduation. No matter what your cosmetology interest is, you will be able to gain a general understanding before you move forward into a more serious education.
Ask around at the high schools near you to see if there's a cosmetology program that may work for you.
Find your school now:
Conclusion
Normally, high school students usually study math, English, science and history, not nail care, skin care, makeup and hair styling. This doesn't mean that you can't though, and you shouldn't let that stop you from pursuing your dreams. By all means, become a jack-of-all-trades in the beauty industry!
If you're motivated enough it's possible to begin a cosmetology program while still in high school by learning about topics you're interested in and getting the hours you need for an eventual license. Search schools to see if there's one with a program you like and get started!