Medical skin care specialists require specialized training in addition to what a general esthetician does.
They work in an exciting and rewarding atmosphere in which they are able to help their clients with their skin care concerns.
Sometimes these concerns are more along the aesthetic side, such as wrinkle reduction with botox and anti-aging techniques. In other cases, there's more to it.
They also help patients who have serious skin ailments and problems. If you are looking for a way to make clients look and feel better on multiple levels, medical esthetician schools may be just the ticket.
Estheticians who work in a medical setting are cosmetologists, but they focus on more than just beautification for their clients.
They use primarily non-invasive techniques to solve problems with the skin. Those problems could be related to aging or to other medical concerns.
Related: Can Estheticians Do Botox?
These types of skin care specialists might work within a doctor's office or even a hospital. They may also be independent contractors who come in to handle a case when called by a medical professional.
Skin care duties in a hospital or clinic setting cover a lot of ground, such as:
Concerns about aging and wrinkle control
Acne concerns, even severe acne
Hyperhydrosis, which is excessive sweating
Varicose veins
Collagen injections and other fillers
Hair removal
Treatments for burned skin
Other skin injuries and trauma
Those practicing medical esthetics might perform these services in a spa environment. They might work in a dermatologist's office. Some might even make house calls along with a doctor, depending on the services that are needed.
The sky is the limit in terms of the opportunities available for those who want to pursue this line of study.
See what schools offer training in your area by entering your ZIP below:
Nurse Estheticians
When looking for information about skin care therapies, future students might find information about nurse estheticians.
While their duties are similar, nurse skin therapists are also trained and licensed nurses. Anyone wanting to go into this field may take esthetician training first or nursing training first. Nurses who also practice esthetics are either LPNs (Licensed Practical Nurses) or RNs (Registered Nurses).
Prospective trainees might know right away that they want to pursue this additional training, or they might decide that they want to become a nurse plus esthetician at a later date.
---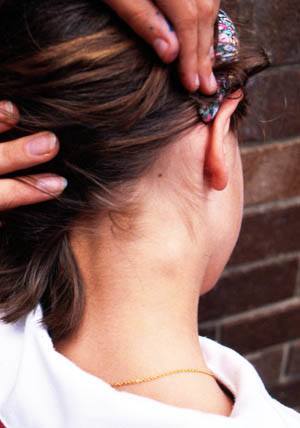 Training in the medical esthetics field covers a lot of ground.
Graduates must be able to recognize and treat various skin conditions. This involves learning about a wide range of treatment options.
While most of these techniques are taught during cosmetology training, students of esthiology learn about these methods in greater detail.
Cosmetologists learn about nail care as part of their training, but usually, estheticians don't perform manicures or hair cutting as part of their day-to-day activities.
Some of the courses might include:
Acne cures and treatments
Skin treatments and procedures
Skin ailments and diseases
Lymph node care
Light therapy
Reflexology and massage
Makeup, both traditional and permanent
Injections
Medical esthetics schools each have different criteria for their classes. Each
curriculum is governed overall by the state board of cosmetology
, so the overall course of studies should be quite similar from school to school.
Some esthetician schools offer the opportunity to study both esthetician courses and nursing courses. This allows students who want to become nurse estheticians the opportunity to study both at the same school.
Types of Medical Esthetician Schools
Students who hope to train in this discipline have various options available to them to learn the skills they need. Some options depend on the age of the student. Others depend on the time available to study and attend classes. Tuition can vary widely.
Beauty Schools – Some standalone beauty schools offer courses specifically designed for those intending to become skilled in skin care. The courses are typically offered during the day or at night, and students must usually attend the classes in person. Some schools offer medical programs in esthetics in conjunction with other programs, so it is wise for students to look into the program before applying.
Online Classes – Online esthetician classes are perfect for those who are not able to attend classes in person (you may or may not be able to take classes towards any kind of training online – it will depend on your locale). It will partly depend on where you are studying. Often they have to work full-time jobs, or they have other commitments that keep them from attending classes in person. The coursework is done through webinars, videos, or a combination of these and correspondence programs. Often, these programs are self-paced.
Vocational Schools – Cosmetology high school students most often attend vocational outreach programs while still in high school. Even if a student is already a high school graduate, there is often a similar program of study available from the local technical college. Students may have the option of attending day or evening classes, depending on their schedule.
Visit our school listings resource to find a school in your area.
Medical Esthetician Certification
To become certified in the field, trainees must first complete the prescribed course of study. They cannot take the certification test until they have completed the number of hours of study required by the state board of cosmetology. Some state boards also require a specific number of practical hours in addition to the classroom hours required.
Will The School Give You The Training You Need?
Students should carefully read through the classes offered by the school that they hope to attend. By comparing that information with the state board of cosmetology's requirements, they can decide whether or not the school meets the requirements.
Some state boards make the task even easier, too, by listing accredited schools that meet the necessary guidelines. In the end, the responsibility for making sure prospective schools meet the state board's necessary criteria is up to the student.
It's Exam Time!
Once students have completed their training, it's time for the certification exam.
For most areas, this involves taking a multiple-choice exam and getting above a specific score. There is a fee to sit for the exam, and then students wait to hear how they did. In some areas, students may be able to find out how they did on the exam immediately. Other locations must mail students the results.
Getting Your Actual License
After passing the exam, graduates pay a set fee to receive their license. Once the license is officially in hand, the former student is ready to go to work legally. Some clinics may let trainees work as interns before they are licensed, provided they work closely with a licensed professional. Some states require renewal fees from their licensed professionals from time to time.
Job Prospects for Medical Estheticians
According to the U. S. Bureau of Labor and Statistics, the job prospects for those in medical skin care careers are growing rapidly. New spas are opening constantly, and doctors and dermatologists are always looking for qualified personnel to help them with their patients. Once properly licensed, medical esthiology graduates are in high demand.
| Type of Industry | Hourly average wage | Annual average wage |
| --- | --- | --- |
| General Medical and Surgical Hospitals | $22.80 | $47,430 |
| Outpatient Care Centers | $21.93 | $45,620 |
| Offices of Physicians | $19.71 | $40,990 |
| Employment Services | $17.94 | $37,320 |
| Other Ambulatory Health Care Services | $16.83 | $35,010 |
From the BLS
Estheticians in the US – Schools by State
Schools for Estheticians in Canada
New Brunswick
Newfoundland
Northwest Territories
Nunavut
Yukon
Enter your ZIP below to find training in your area, including for paramedical and nurse specialists.