Nighttime or evening cosmetology school provides a good option for those who can't go to day classes. Not every school will offer them, but you are likely to find a college somewhere in your state or province that does. Find a school near you that offers evening or weekend classes by entering your ZIP in our school finding app.
Or you can go to our "beauty schools near me" page>> ourworldisbeauty.com/beauty-schools-near-me/.
Sometimes a combination of online classes together with training in person will get you the hours and credits necessary to get your license. Once you contact a school you will be able to find out if a personalized program is a possibility. This applies to  barbering, aesthetics or, for that matter, any other discipline!
Cosmetology Night Classes
For many people an evening beauty program is a great option. Instead of taking out a student loan they decide to be employed during days and study part-time at night. Being debt-free at the end of your training is a great feeling and gives you more options after you graduate.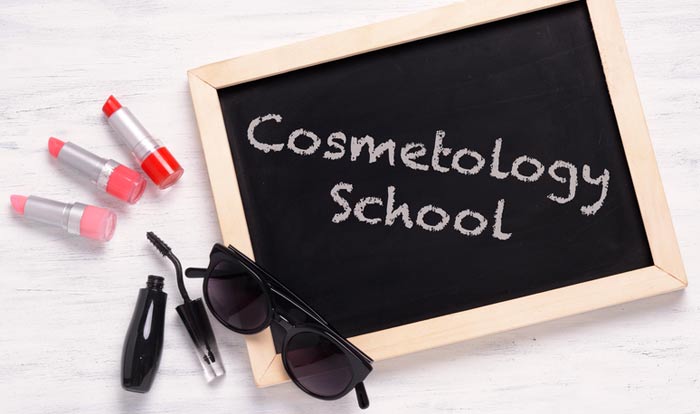 One problem is that you may not be at your best. After working all day being tired might make the classes more difficult than if you were fresh at the beginning of the day.
Also, if you enjoy late-night partying you may be able to force yourself to go to your day job, but be too exhausted for evening classes.
Due to fewer hours of classes per day it will usually take more months to complete your courses if you are taking only evening classes. For instance, at Arkansas Beauty School in Little Rock the training course can be completed in about 11 months for day classes while night cosmetology classes take 12-16 months.
What Classes Will You Take?
Evening classes are usually the same as day classes except they take place at night. For cosmetology training you can expect:
History of Cosmetology
Professional Development – a successful mindset, motivation, time management, professional physical presentation
Effective Communication – communications basics, client consultation, in-salon communication
Salon Safety and First Aid – universal precautions, professional image, principles of prevention, bacteria, viruses, parasites, immunity
Salon Chemistry and Electricity – electrotherapy, light therapy, salon chemistry
Anatomy and Physiology – cells, tissues, organs, body systems
Shampoo, Rinsing, and Conditioning – all about shampoo and conditioners, general hair and scalp treatments
Haircutting and Hairstyling – basic principles of haircutting, tools, body position and safety, wet styling basics, thermal styling basics
Manicuring and Pedicuring – nail structure and growth, nail care tools, simple manicures, basic pedicure
Facials and Makeup – skin anatomy, classification and chemistry of esthetic products, cosmetics
Salon Management – managing a successful salon, selling a salon
Other Options
If you are in high school and are keen to get started with cosmetology it is possible to do night classes after school.

Consider finding a weekend job or weekend classes so that you can either do day classes or study on the weekend.
It is also possible to take some of your course work online. There are many classes that can only be done in-class. However there is also some book training that can be taken via internet.
There are lots of pros and cons to think about when your are deciding on education options. It is important to contact a bunch of schools to find out what the options are in your area.