Washington state, and especially Seattle, is a very good place to work as a nail tech. The wages are some of the highest in the country and there is a respect and appreciation for the manicurist's craft. To become a nail professional in WA you'll first have to go to one of the good schools, and then pass exams to get your license.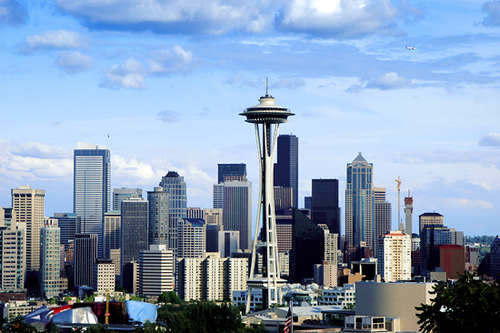 Finding A School + How Long Is The Training?
Schools that want to provide training for prospective manicurists must provide at least 600 hours of training. Classes that you'll take within a course will range from artificial nail techniques, state laws, safety, manicures and pedicures, and so on. Some classes may even be available online though since a nail tech must have a lot of hands on training some work must be done in class with the oversight of an instructor.
If you are having trouble with coming up with money to pay for a course there is also the option of doing your course work via an apprenticeship. Be prepared to spend a little more time in you choose this route — 800 hours instead of 600.
Exams
Once you've completed either 600 or 800 hours of training you must still pass two exams with a score of 75% before you can apply for your license. Find out how to apply for these exams through your school.
The theory exam is written and will cover topics you've learned about in school, such as anatomy, hand massage, nail design, safety protocols, and so on. you have one and a half hours for this exam.
For the practical exam you'll be allowed one hour and forty minutes. You'll need to bring some items — including your kit — with you to the exam. As you'd expect you'll be expected to show your ability at tasks such as manicure, nail art, and setting up your work space.
License
After you've been successful in your tests you must prove so to the Washington licensing department via a 3rd party. They will then send you your license. License renewal doesn't require continuing education, but must be done every other year.
Nail licensees from another state must contact the WA Department of Licensing to get their license.
To find a job once you are licensed you can check out a career website to look for employment or you can work on your own by opening a salon. There is a fair amount of expense to open you're own nail shop and, as you'd expect, more licensing!!
Some Washington Nail Technician Schools with Tuition Cost
Name
Address
Cost
Other Programs
Bluestone Cosmetology
201 North Pine Street, Ellensburg 98926
$4,500
Esthetician, Cosmetologist, Hair Design
The Hair School
2941 East Highway 101, Port Angeles, 98362
Unknown
Cosmetologist, Barber, Esthetician
Char-Go School of Beauty
1418 South Pioneer Way, Moses Lake 98837
$6,000
Cosmetology, Esthetics, Barbering,
Glen Dow Academy of Hair Design
309 West Riverside Avenue, Spokane, 99201
Tuition:$5,332
Textbook and Supplies:$1,809
Registration/Application Fee:$100
Uniforms:$95
Fees:$466.21
Total: $7,721.05
Cosmetology, Esthetics
Elite Academy
2606 West Nob Hill Boulevard, Yakima, 98902
Tuition: $4,650
Books and Kit: $750
Enrollment Fee: $100
Total: $5,500
Cosmetology, Barber, Esthetics and many more
Lucas Marc Academy
71 Gage Boulevard, Richland, 99352
Unknown
Cosmetology, Barber, Esthetic
Bellingham Beauty School – Bellingham
Lacey Beauty College – Lacey
Hair Academy – Moses Lake
Chetta's Academy of Hair & Nails – Port Angeles
Angeles Academy of Hair & Nails – Port Angeles
Simply Couture Beauty College – Renton
Anthony's Beauty School – Seattle
Shelton Beauty & Barber – Shelton
Lincoln Beauty School – 702 South 38th Street, Tacoma, WA 98418
Celebrity Beauty School and Salon – Tacoma
Elements University – Wenatchee
Yakima Beauty School, Inc. – Yakima
Sakie International College of Cosmetology – Yakima
Spokane Community College – 1810 North Greene Street, Spokane. SCC is one of the largest community colleges in the state and offer complete and solid training in the nail tech field. They don't offer a course specifically focused on nails but instead make it part of a larger cosmetology program.
Academy of Cosmetology – Richland
Aesthetics Northwest Institute -1750 124th Avenue Northeast, Bellevue 98005. ANI specializes in teaching future nail artists and technicians and aestheticians. They offer complete nail training for $4,500 all-inclusive. Training includes manicure, pedicure, and application and removal of nail coatings and designs.
Evergreen Beauty College – 802 Southeast Everett Mall Way, Everett, Washington 98208. Evergreen has a complete barber area where students do straight razor shaves, a nail shop for aspiring techs to practice, a spa for esthetics practice, and of course a hair studio where trainees can practice on members of the public while supervised by teachers.
Quality Beauty College – Olympia
Any WA schools for nail techs missing? Please use our contact form to let us know.