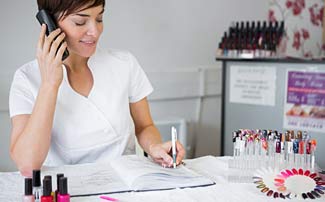 Students who want to become nail technicians may have a general idea what they will study and learn, but often they do not know specifically what topics are covered in manicure classes whether in classroom or online. Enter your ZIP below to see where you can train nearby to become a licensed nail tech.

It can help to read the detailed syllabus for the school which they plan to attend, and it can also be beneficial to talk with professionals who are currently working as nail technologists. Most schools in Texas and elsewhere offer tours for prospective students; it is wise to take advantage and have a good look before you proceed.
Learning what to expect in general eases any concerns prospective students might have about the new path they've launched themselves onto.
Client and Nail Assessment
The body has a lot of ways of communicating with us. One of the ways that it shares information is via our finger and toenails.
Sometimes this communication involves the different ridges and spots that can develop on nails as they grow. Other times, the nails themselves become sick and the nail technician must recognize disorders or diseases of the nail.
Talking with the client also helps the manicurist to discover what is going on with the client's nail and overall health. These conversations are essential so that the nail tech is able to recommend proper care and treatment as needed.
Basic Sanitation – Nail technicians must keep their stations and their equipment in pristine condition. This ensures that there is no cross-contamination from one client to the next. Bacteria and fungi can build up on nail clippers and other equipment that then pass along the next time they're put to use. If nail salons do not have the equipment to properly sanitize their tools, they should use a brand new set of appliances for each customer.
Basic Manicures and Pedicures

Underneath all the polish and the bling, manicures are a process that cleans up the nail, the nail bed, and the skin around the nail. The process typically begins with removing any old polish, then soaking, massaging, and moisturizing the nails as well as the hands or feet. During this process, the manicurist assesses the nail and determines whether any treatments are necessary. Usually, a manicure or pedicure finishes off with a few coats of polish to decorate the nails.
Nail Enhancements
Most clients enjoy having their hands and feet pampered, and one way to extend that pampering is to have their nails enhanced in some way beyond just polish. Some of these enhancements include:
Nail tips
Fiberglass nails
Acrylic nails
Gel nails
Silk wraps
Glue-on attachments
Not every client will want these types of enhancements, but when they do, they want to go to a manicurist who is knowledgeable about them and able to perform the service. As such, nail technicians need to be well-versed in these techniques.
Becoming a skilled nail technician involves learning a lot about nail health and care that the manicurists apply on a daily basis. Mastering the basics ensures that students become nail techs who are highly sought after by their clients. Once students have completed the basic courses, they can move on to more advanced techniques and processes, which is where the art begins to become more creative.

Find out about different ways of financing your studies at a Nail Academy.
Here's a cool video on nail enhancements: