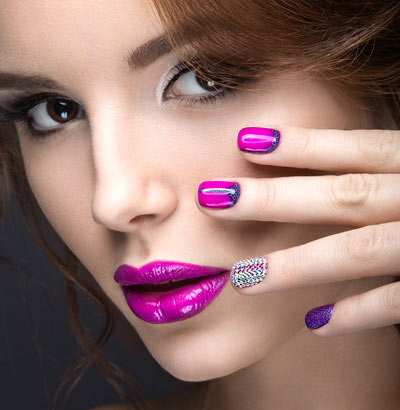 When people first think about attending an online school for manicure arts, they may be a bit confused by the idea. Isn't manicuring something that happens in person? Yes, it does, but students in this day and age can get an excellent education in their chosen field by selecting an online school for their nail tech training. Whether you live in rural Texas, urban California, or somewhere in Florida you can train in your own home. Be aware that online makeup or aesthetics training will, as of 2021, still require some classes in person.
How Materials Work
Since online nail technician schools are hosted through the internet, there are a wide range of ways in which the school can share information with trainees. In some cases, the instructors may want students to purchase real textbooks to use at home. Most online instructors, however, use a mixture of materials. Ebooks, site hosted lessons, webinars, and videos are just a few of the ways in which students might start learning about their craft. Students almost always have a forum of some sort. That way they can ask questions in real time of their instructors and other students.
How Online Manicure Classes Work
Classes may be live webinars, or they might be video classes. In the case of webinars, students may have several options of time slots available that they sign up to attend. Most of the online cosmetology courses are geared toward students who need a flexible schedule such as night learning. It's more likely that students have access to video classes that they can watch at their own pace. Sometimes these video classes may be "locked" until students view a specific sequence of videos. Sometimes they may all be open for viewing at any time.
Method

Benefits

Ebooks
No physical weight to them, students can take them anywhere.
Easily updated as information is added.
Site hosted lessons
Students simply log into the school's portal to see and to take lessons.
Webinars
Students hear from instructors in real time.
Students can see exactly what the instructor is doing while it is happening and can ask questions.
Videos
Viewable whenever is convenient.
Students can see processes as they happen.
Forums and discussion groups
Students can communicate and ask questions of their peers and their instructors.
Some schools may prefer one method of teaching over others. Since a mixture of these methods allow all students to learn in the manner that is most effective for them, however, schools are more likely to provide information in a mix of these.

How Practical Application Works
The practical application of what students learn in class is what online and offline school is all about, really. Students have to be able to apply the information to the fingers and toes of their clients. One of the items that online schools may require is a practice hand, with detachable practice fingers. This allows students to start out working on a hand that they really cannot mess up. The detachable fingers come in handy when instructors require students to mail their assignments to the school for assessment. As students become more experienced and move on to working with live models, schools may simply require students to email pictures to the instructor.
If students are concerned about how their individual online instruction will work, they should contact their school. These schools are used to skeptical students, and can give them an overview of what to expect. Just because the classes are virtual does not mean that they are not comprehensive and fully capable of preparing students for their licensing requirements. And if you are another class of beauty care specialist such as a barber you can use online instruction as an easy to schedule way to improve skills that are highly applicable to your work.