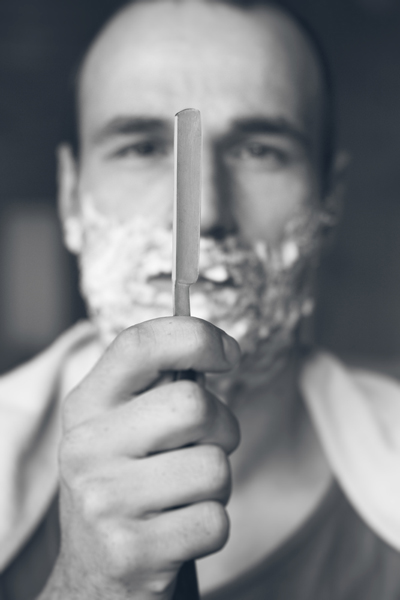 Anyone who knows hair knows how different it can be to cut and style men, in comparison to women. It's true that every hair type is different, but cutting hair for men comes with challenges that you won't find with women. And finding classes located near you can sometimes be difficult as well.
Men's styles often involve techniques which may not be taught as part of a regular beauty program.
Additionally, many men are still most comfortable letting men cut their hair or give them a shave.
Whether you're looking for local classes to brush up your barbering skills, taking an advanced accredited program, or just searching online for the right course to continue your education, here are a few things to know before you start.
Where To Find Mens Hair Cutting Classes Near You
Men's hair cutting is traditionally called barbering, as opposed to hair styling. Barbers also generally use electric clippers more than they use scissors. These days straight razor classes are considered advanced. You may even be able to learn about the technique from an experienced pro without attending school.
To properly learn the techniques and tools you will use when cutting men's hair you may want to choose a specialty course. This might be part of a registered beautician program at a vocational school. It may be a single course for beginners lasting a few weeks. It may even be an online continuing education program. Use your ZIP below to locate a full-time or part-time program or even just some casual classes:
What You'll Learn
The best programs should give you time to practice and test what you've learned in a practical environment. Some of the things you should cover include:
Cutting and dyeing hair
Facial hair shaping, trimming and dyeing
Shaving (maybe even straight razor)
Barber tools and technology
Health safety and hygiene
Facial massages
Note that different states have different laws with regards to hygiene, safety and legal requirements to owning or working in a barber shop.
Be sure to check with administrators and the school you attend about which laws apply to you. You should also be learning to work with both scissors and clippers, as well as the details of shaving and shaping.
Courses may also include the basics of business management, allowing you to run your own shop, or freelance out of your home.
Want To Go Professional? You'll Probably Need A License
To become fully licensed, most states require between 1200-1500 hours of both practical and theoretical training, and exams.
If you are already a licensed cosmetologist, you may choose a short course specializing in men's hair to expand your client base. You can often attend as part of the continuing education courses some states require to renew your license. also
If you're looking to study barbering for the first time, you will need to go through an accredited program to be licensed.
Opportunities
Many cosmetology schools offer barber classes as part of their programs. You can also apply for an accredited course, and be licensed as a barber. It means a less varied clientele, but many men still prefer barbers over a visit to the salon. There are plenty of opportunities for licensed barbers, whether at a traditional barber shop, salon, or even luxury hotels.
Alternatively, if you're just looking to increase your skill set, there are plenty of part-time courses that specialize in men's hair.