Find a school by entering your ZIP
further down this page
or simply keep reading.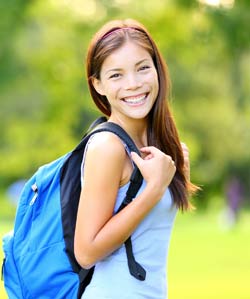 Some people decide to pursue cosmetology after having another career either in the helping professions — like massage or esthetics — or by even evolving into it from something like barbering.
Other students know at an early age that they want to make their career performing cosmetology services for others. In such a case, cosmetology classes for high school students can let you get a quick start in a fascinating vocation.
With the options available, it's possible that students could graduate from high school with cosmetology licenses already in hand.
On this page:
• Cosmetology Schools for High School Students
• What to Expect from a High School Cosmetology Programs
• What Students Learn in Cosmetology High Schools
• In The News
Enter your ZIP below to find a good school near you.

Cosmetology Schools for High School Students
Most cosmetology schools have age requirements, and they may also require that their students have a high school diploma or the equivalent. Students who have access to a program in high school, however, often do not have to worry about those requirements. Since they are enrolled in high school, they are able to enrol in any programs offered through a vocational technical program, which is how most high schools classify these courses of study.
Typically, what happens is that as students become eligible to participate in the program, they sign up for cosmetology classes. For a portion of the day the student takes regular classes at her home high school learning about foundations, makeup, hair cutting, etc. For the other part of the day the student takes classes at the vocational center that revolve around their cosmetology training.
The training is a combination of classroom learning and hands-on experience. Often, students are even able to practice the new skills that they are learning on each other. Some vocational programs have a student salon, in which customers pay reduced rates to have services performed by students. The advantages with such a program are great for both sides. Customers are able to get cosmetology services for greatly reduced rates, and students are able to hone their skills and practice working with real customers.
Be sure to check with the schools in your state about training while still in high school
. Click on links to states in the table below…
Beauty Colleges & Schools State Listings

Canadian Provinces
Additional Options
In some areas, students may not have access to high school cosmetology programs through their regular high school. For those students, there are some other options. These options are best for students who are highly committed to pursuing a career in cosmetology, however, since they do require extra time and discipline. These additional options are also more expensive, since a high school program is likely to be provided as a free adjunct to the high school curriculum. Courses taken outside of that arrangement will need to be paid for by the student.

Online Cosmetology Classes
–High school students can opt to take online cosmetology classes if they do not have other suitable options in their area. Most online courses for cosmetology are self-paced, so students can do their coursework in the evening or on weekends whenever they have the time to devote to the lessons. It will give you a big head start, but won't count as course credit.
Part-time Cosmetology Programs
– Another option for high school students is to take
part-time
cosmetology classes at night or on the weekends. Most schools do have age requirements, but many students in high school are old enough, particularly as juniors and seniors. This is a more time restrictive option than online classes, since students must attend their classes in person.
Back to the top
What to Expect from a High School Cosmetology Programs
What you can expect from high schools with cosmetology programs can vary depending on the region and availability. Schools that only offer a cosmetology program to upper-level students may have a different layout to their curriculum than schools that are devoted to teaching high school students of all ages how to become an expert in the field of cosmetology. Each program will, however, conform to the requirements set forth by the state board of cosmetology in order to qualify for licensing.

A high school with a solid cosmetology program may offer far more than the minimum amount of required classroom hours of instruction. Since the students are often younger in these types of programs, the curriculum may start out with a more broad and general introduction to cosmetology before moving up to the more advanced courses.
Vocational programs that are offered to older students tend to offer a more condensed form of the same information. The students are responsible for the same information in each program, but it may be presented in a different manner. Students who are curious about how their high school handles cosmetology courses for high school students should check with their guidance department to obtain all of the options available to them.
For instance here is a list of courses available to high schools that can be taken at San Jacinto College:
First Term
Introduction to Hair-cutting and Related Theory

Fundamentals of Cosmetology
Second Term
Chemical Reformation and Related Theory

Artistry of Hair Design I
Third Term
Artistry of Hair Design II

Principles of Hair Colour and Related Theory
Fourth Term
Prep for State Licensing Written Examination

Prep for State Licensing Practical Examination

Advanced Haircutting & Related Theory
Back to the top
What Students Learn in Cosmetology High Schools
Cosmetology school for high school students offers the same basic topics as that for students at other beauty schools. Students obtain both general and specific information regarding:
Hair care, cutting, and styling
Hair coloring
Esthetics and skin care
Makeup application and removal
Students of cosmetology can choose to keep their field of expertise more general, or they can opt to specialize in one or more disciplines. Cosmetology is a highly creative field, and it lends itself to mixing and matching disciplines to find that area in which the licensed cosmetologist most enjoys her work.
One of the biggest advantages to obtaining a license first as a cosmetologist is that students develop a general understanding of all the fields related to the beauty and skin care industry. As a "jacks of all trades" licensed cosmetologists can perform a wide range of services for their customers, negating the need for their customers to go elsewhere. If they feel the need to obtain a more specific license later, that simply adds to their marketable skillset. Enter your ZIP below to help find cosmetology schools in your state:

High school students who already know that they want to be cosmetologists have a wide range of options available. Attending high school cosmetology classes gives them a leg up in the industry, and students who do well in their courses can even pass the licensing exam as soon as they have enough credit hours to attempt the exam. It's a great way for students to graduate with both a high school diploma and a marketable skill that they can put to work immediately.
News
Nelson County High School in Virginia is reintroducing cosmetology classes to students. The last time students were able to take cosmetology training was in 1995. Students will have a salon and will be able to take three-hour-long classes starting in their junior year.
Another cosmetology program, this one offered through the Miami Valley Career Technology Center (MVCTC) in Ohio is opening the doors to their new student-run salon. They'll offer hair cutting, styling, chemical services, and spa services. The school's salon gives students a chance to work directly with clients to help expand their learning process.
Taft High School in Texas is training students in cosmetology and allowing them to work directly with clients. Clients benefit from getting services at a low price point while students get the experience of having real clients in their chairs rather than mannequins. The program at Taft High is growing by leaps and bounds due to so many positive results on all sides.
Floyd County, Indiana offers students the opportunity to earn scholarships for higher education. Trivia was the name of the game and although the proceeds are earmarked for higher education, that doesn't mean that the $12,000 handed out during the competition must go to a college. Many students are planning to head to trade schools or cosmetology training programs and the money can help them to defray the costs. To date, Floyd County has made over $200,000.00 available to students through this program.
Washington County, Virginia has a unique program called "Ignite." It's a career fair to help middle and high school students determine what they want to do later in life by exposing them to certain professions such as cosmetology.