Most jobs today require some specialized training, but that can be expensive.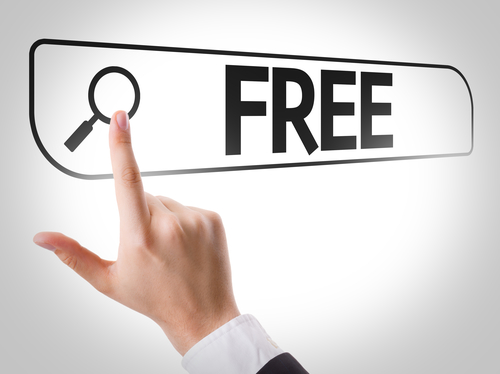 In the case of learning about beauty, you might think it's a dream to find a free cosmetology school.
Depending on what you want to learn, however,  free online cosmetology courses are definitely available.
Even better news is that many of these courses are great if you're broke, and they can also apply toward your certification if you do your research.
On this page:
Traditional Beauty Schools Can Be Expensive
The reality is that traditional education methods for learning about cosmetology and related fields is not cheap.
The tuition for beauty schools can scare some talented students off, which is a sad state of affairs. If you can apply for and receive financial aid, that can make a big difference.
The first thing that you may need to do if you have no money and want to become a cosmetology student is to research the price for each school you're interested in attending.
Make sure that you look into all aspects of the school itself. For example, some nail tech schools include the cost of beauty supplies in their tuition, but not all of them do. If you're interested in one that doesn't do this, you'll need to factor in those costs in addition to the cost of your schooling.
So, what can you do if you want to make cosmetology your career, but you have no money?

Grade School Training Costs Nothing!
One of the best ways to get free training is through programs available to high school students.
Often the school has an agreement with a district-wide technical training school that allows you to learn various aspects involved in cosmetology for no cost at all. Here's an example.
If you're still in high school, this is a perfect opportunity for you to learn most of what you would be studying at some of the best institutes and to learn about the difficulties you might face along your study path.
You'd probably be doing this part-time in correlation with your other required studies, but it's an excellent way to graduate with a leg up toward starting your new career.

College Programs
Some colleges also offer cheap or low-cost cosmetology training to qualified students. Hudson Valley Community College offers students a program called EOP, or the Educational Opportunity Program. The program has some stringent requirements, including the need to be a New York state resident for at least a year before enrolling at Hudson Valley Community College.
You'll also need to meet specific educational requirements, such as being a first time college student. Also, if you're planning to attend classes part time, this program may not be for you. In addition, you'll have some financial eligibility requirements that may vary depending on your individual situation.
If you're looking for college training programs in your area, you may need to do more than just a quick search online for free beauty school training. It's a good idea to get in touch with those nearby…
You may need to look for financial aid opportunities in addition to the cosmetology training you're hoping to receive. Grants and other tuition awards are equally valuable.
For example, if you're a single mother, search for "cosmetology grants for single mothers." Odds are very good that you can find at least a handful of grants that fit your situation for which you can submit an application.

Free Online Cosmetology Courses
Perhaps there aren't any — for instance — barber schools nearby that you can afford to attend, but there's another cheap option. Many people who are licensed barbers, estheticians, and cosmetologists operate websites or channels on which they share information about their profession.
If you're wondering why someone might do this, it's usually because they love the career that they've chosen and they remember needing a cheap option to help get them started learning. You may not be able to spend much now, but that doesn't mean that you don't want to learn more about all aspects of cosmetology and becoming a professional!
You're going to find these types of professional cosmetologists on sites such as Instagram, YouTube, and on their own websites. They usually have quite a large following because they still see themselves as a pupil of cosmetology. They're constantly learning new techniques and tricks and staying with the times. They also have a real love for bringing more talented people into their profession.
Some of the YouTube channels you might want to visit could include:
You can learn so much from people doing what you want to do, whether that's about different techniques you can try or whether something you're interested in doing is something that can harm your career down the line.
On Instagram, hashtags are your best friend. Taking a tour through the "cosmetologist" hashtag for instance can introduce you to a ton of people working in the beauty field today.
But Really, How Much Is Cosmetology School?
You might be wondering just how expensive cosmetology school is, after all. You don't want to cheap out on your education, that's for sure.
And as with many other things in life, it's true that you often get what you pay for with your beauty school tuition. That doesn't mean that training you get for free isn't worthwhile, but knowing about the cost of cosmetology school can help you to put things in perspective.
Accredited schools for cosmetologists, estheticians, and barbers can run you around $5,000 and up for the full tuition.
As always, you'll want to make sure that you thoroughly read what all is covered under that tuition because some schools include a supply kit, but many others don't at all.
Accredited schools can cost you upwards of $15,000 and more, depending on where you're planning to go. If you're looking for a top notch beauty program, you may be looking at around $10,000 to start out. The costs can go way higher from there, of course. Some of these schools may have financial aid programs, but remember that they exist to make a profit.
So when you're looking to expand your cosmetology knowledge and later become licensed in your chosen specialty, remember that you can start out with lower cost options or no-cost cosmetology training and work your way up as you're able.