Every aspiring barber requires certain tools in order to do their job well. Therefore, you must get professional barber supplies when opening your barbershop. High-quality tools last longer and help you do a great job cutting and styling hair.
There are many different brands and tools styles on the market. But, it is easy to get confused by marketing and end up buying something that is not right for you. So, invest a little time and effort and discover what's suitable for your job!
On this page:
•Scissors/shears
•Electric Clippers
•Straight razors
•Chairs
•Combs, Brushes, Mirrors
You might be aware that shears and clippers are the most important possessions of every barber. However, there are a few other items that should be considered. All these implements and supplies will be taught about in school.
Essential Barber Tools
Having the right tools is of utmost importance for any job you wish to do, and being a barber is no different. You can cut hair more easily with sharp, quality scissors, and styling someone's hair is better with a powerful hairdryer. Barber supplies do affect the quality of your work.
Scissors & Shears
Probably the essential tool every barber and cosmetologist must have is the best barber scissors they can reasonably afford. Scissors are a basic tool and come in various models designed specifically for cutting long or short hair.
As a professional barber, you ought to possess multiple pairs of scissors if you want your customers to be satisfied with the result. This is because cutting all hair styles with the same pair is difficult.
On the other hand, shears are a lot sharper than scissors and are designed to cut hair, delivering sharp and clean cuts. Usually, shears range in size from 5 to 7 inches and should be composed of at least 420 stainless steel.
Thinning shears help texturize your customer's hair ends or thin out hair. Use thinning shears to create more volume and texture or help unruly hair lay down better.
Currently, many quality scissors are available on the market that deliver clean cuts worthy of a pro. You won't have a hard time finding good ones — take a look at the table below for a couple of choices.

Electric Clippers
Professional barber clippers are a valuable tool that a North American barber can't do without — unlike barbers a hundred years ago and those in poorer countries. So high-quality electric clippers should be a part of your barber's shop inventory. Like shears, there's a wide selection of them available on the market.
There are three different types of motors in electric clippers for barbers. They are magnetic, rotary, and pivot. First, decide on your desired motor speed and find out how many rotations the clipper makes per minute. A general rule is that it should be more than 6000 rotations per minute.
There are corded and cordless electric clippers to choose from as well. But, of course, cordless ones offer you a lot more flexibility and convenience.
Decide on the blade type that you prefer. Choose from stainless steel, which is easy to maintain and affordable, or ceramic blades that are great for withstanding heat throughout the day.
If you are serious about becoming a professional barber whose clients will happily come back again and again, then remember this: avoid low-quality electric clippers that could fail when cutting a client's hair. However, if you are a home hair cutter, don't worry about it…
Failing clippers would not only cost you a client but may also affect your reputation as a professional barber. Of course, it wouldn't hurt to have multiple clippers, too, as you will be using them frequently and might need a backup.
In our opinion, the best hair clipper comes from Oster. The Model 10 is slightly more expensive than the previous high-end Oster. The 10 is a smaller, lighter, and quieter without giving up any power. It fits in your hand better, making it easier to fade and blend. The 10 is THE choice of many serious amateur and professional barbers.
Though not as powerful as the Osters, a great choice for a less expensive model is the Wahl 8500 Senior. It gets excellent reviews and hits that sweet spot between price and quality — a good choice for a student or a home barber.
Straight Razors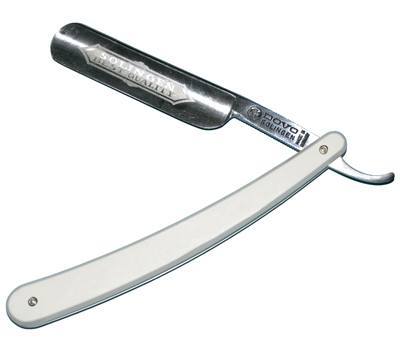 Most professional barbers aspire to be adept with a straight razor, though it does take practice. Compared to electric razors, straight razors are a lot more convenient as they don't require charging. They also tend to be a little less expensive and last forever. There's something special about a single blade and strop.
When considering which straight razor to purchase, ask yourself these questions:
Is it specially designed for a barbershop? Now that many people use straight razors at home, it's important to ensure your pick is meant for a barbershop. Straight razors designed for barbershops are more solid, rigid, and durably resistant to daily wear.
Does it have a water-tight blade storage placement? A common problem with straight razors is that they come with cheap and loose blade storage placements. A good professional barbershop razor must come with a solid snap-lock, and water-tight blade placement.

Barber Gear for Pros and Students
Clippers

Scissors

Straight Razors

Professional Grade
Oster Model 10Pros: Powerful, durable, reliable, great reviews!
Cons: Some buyers report missing #000 blade, a few users have mentioned overheating issues.
More info and review.
Harutake Professional Scissors - 440c Stainless Steel
Pros: Very high quality stainless steel, professional grade, long-lasting, good reviews
Cons: High price


.

Dovo Straight Razor Carbon, Ebony Wood Handle 5/8"
Pros: Super-close shave, excellent materials, beautiful
Cons: High-priced (but worth it)


.

Student Grade
Wahl Pro 8500 Senior:
Pros: Lower price, lots of good reviews, great all-round clipper.
Cons: Not as powerful as Oster 10s
Suvorna Ador 6" Professional Salon Shears
Pros: less expensive, Excellent reviews, best value while still good quality
Cons: Lower quality materials not suitable for a pro barber.
#1 Best-selling Straight Razor
Pros: Inexpensive, easier-to-use, no sharpening with disposable blades
Cons: won't give as close a shave as a cut-throat razor

Barber's Chair
As obvious as it sounds, a chair is an essential part of professional barber tools as scissors. If you have a quality chair, you will be able to easily adjust it while you work. This makes it easier to style and cut, lessening work fatigue and improving results.
Most barbers choose a chair that can also recline so that you have the power to adjust it while working on the face and neck area.
The ability to adjust the chair enables you to cut hair at a comfortable angle. There is, of course, a wide selection of professional barber chairs available, from costly, sturdy chairs to low-budget ones.

Combs and Mirror
Combs and mirrors are essential in every barber's shop. However, barbers don't use regular, everyday combs for their business. You have to acquire a selection of different combs and particular types of brushes required for different hairstyles.
A combination of combs and brushes is as important as a good pair of scissors.
A barber's comb is usually about 12 inches long and features long, coarse teeth on one end.
Thanks to a large mirror, a client will be able to see the progress being made and can instruct you accordingly or request any changes if necessary.

Conclusion
Scissors, electric clippers, straight razors, a chair, combs, and mirrors are the basic tools required in every barber's shop. However, these are not the only tools you need to set up a shop. Don't forget about blow dryers, tweezers, hair lotions, oils, hair dye, and other little things that make a big difference to your business.
There are an abundance of different grooming kits and tools available on the market, designed for specific needs and purposes. Cheaper tools can seriously affect the quality of service you provide, so it is recommended that you do not jeopardize your reputation with low-cost, low-quality tools.