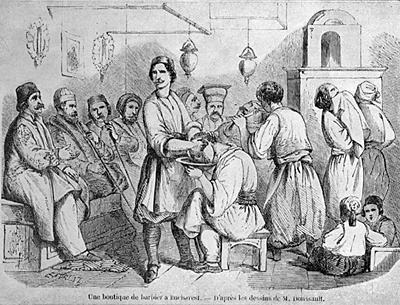 The 19th century barber was a professional in a time of change. He still performed some of the duties of the barber surgeon who preceded him, but he was on his way to becoming the barber of today. This time of fluctuation and change meant that barbers in metropolitan areas had a slightly different experience than their peers in more rural areas. Barber schools were non-existent at the time; apprenticeship was the way to learn the art of barbering.
The Barber Surgeon
From the earliest times, there were those who cared for the personal needs of others, whether that meant trimming their hair, shaving their beards, or lancing their boils (some barber tools were much different than they are today). Monks and priests needed someone who could help to maintain their specific haircutting needs, and doctors were forbidden from performing surgeries. Enter the barber. His shop became the place where people could go to have advanced procedures such as bloodletting and cupping performed, as well as having their hair cut. Dentists were not common yet, so barber surgeons performed these duties as well, cleaning and pulling teeth as needed.
The End of an Era
By the end of the 1700s, barber surgeons and physicians were battling more and more often about who was responsible for which duties. The Church was no longer complaining that doctors could not perform surgeries, and the general populace was viewing doctors in a more professional light. In 1745, surgeons split from the barber guild, and in 1800, the Royal College of Surgeons was founded. This left barbers to the less invasive duties of grooming their clients. Late in the 19th century A. B. Moler founded a school for barbers in Chicago. The school was the first for barbers, and became an extremely successful enterprise. Lessons were simple, focusing on shaving and cutting hair. More complicated lessons would be added much later.
Modern Barbering
The 19th century barber paved the way for the modern barber. Where he left off, modern barbers have picked up the mantle. Now barbers are knowledgeable about the more scientific aspects of the field, including hair, skin, and scalp care. As barbers left the fields of surgery and dentistry, their skills became more appreciated as the professionals that they are.
Being a barber in the 19th century was far from glamorous. These men performed tasks for their fellow countrymen that few others were brave enough to tackle. But their skills and perseverance paved the way for the barbers of today to focus on hair and skin care.

Best-sellers for Barbers at up to 50% off:
Mister Pompadour Natural Beeswax Paste for Men - 20% off
Wahl Peanut Clipper and Trimmer - 50% off
Wahl Chromstyle Professional Cord/Cordless Clipper - 17% off
Groom Mate Platinum XL Nose & Ear Hair Trimmer - 33% off