Make an Effort
You'll definitely need to apply yourself if you want to get the most out of beauty school. As with most endeavours you get out of it what you put into it. A large part of attending cosmetology and hairdressing school is diligently putting in the hours necessary. Many states require a minimum time spent in class and in practicing the skills you learn before you are qualified to even take the state boards exam. The number of hours can be 1500 or more. You can find a school in your area on this page or with the app below.
While in regular college you are stretched mentally. In hair school you get stretched both mentally and physically.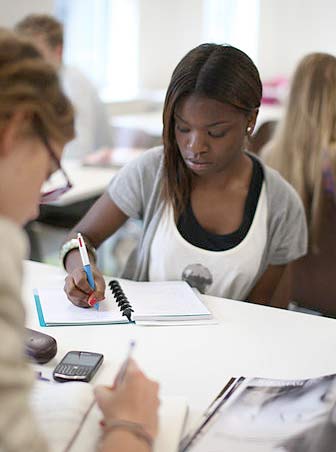 While it might not seem obvious at first there is an academic requirement that will test your memory and intellectual skills. Some students report having the hardest time with the scientific side of beauty and biology. You'll be surprised to know that many schools will have you learning a lot about anatomy, skin, nail and hair diseases and disorders as well as a few tongue-twisting medical terms.
Of course you will learn new skills that will test your eye-hand coordination and dexterity — both necessary skills for a hairstylist. You'll gradually find out both what you are good at and what you are passionate about. It might be that you enjoy the makeup portion of your studies more than the hairstyling. Or perhaps you'll find that skin care fascinates you and decide to specialize in esthetics — you can even start your esthetician studies online if you decide to go that way. Don't consider cosmetology school the end of the road in your training, it might be just the start.
Be glad your beauty school isn't like the one in the video at the bottom of this page!
Interpersonal Difficulties
Providing beauty services puts you into very close contact with clients. In beauty school you will be dealing with customer as well as your fellow students and, of course, the instructors and teachers, too. So you will be involved in many types of relationships. Sometimes these relationships will be wonderful and other times they will be hard to deal with. Sometimes a client will make your day and other times he or she will ruin it! Consider learning to deal professionally with problem clients as part of your training. Being professional is striving to do your best work whether or not you get along with those you are working with and whether or not you like your clients.
Be Happy When You Get Constructive Criticism
You are in school to learn. Don't let your ego ruin it for you! If an instructor has something to tell you or needs to correct you, please don't be offended. You learn from your mistakes, and if you accept that you'll make plenty of them, and have some humility, you will be a much happier student! Even better, if you have doubts do not be afraid to take the initiative to ask questions; again, you are there to learn and you should ask questions!
At the same time don't forget to be gentle on yourself. As a student your skills will not be perfect. Your fellow students are in the same boat. Their skills are not perfect either. If you were already a perfect hairstylist or manicurist (or whatever) there would be no need for you to go to school, or you would be there just going through the motions. Once again, you are there to learn and part of that learning is making mistakes.
Double-Check With Clients

This applies once you get out of school and are working in a salon as well… Don't assume you and you client are talking about the same thing. Your client may not be familiar with cosmetology terms and may not know what they are asking for. Use pictures and descriptions to clear up any doubts so that you don't end up with a surprised and angry customer!
There are so many good reasons to go to cosmetology school. Once you do take the plunge and start school please do not waste your time playing on your smartphone. The more you apply yourself the more you'll get out of it and the more successful you will be.