Women should have perfect beauty products to help them look their best at play and to enhance their look at all times. Here are 15 essential things that every woman should have in their gym bags, purses, or even in the medicine cabinet.

#1 Airbrush Makeup Kit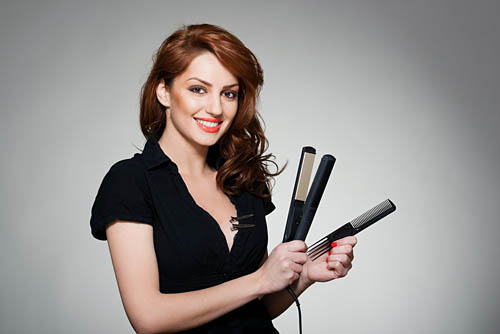 For special occasions, airbrush makeup is your best bet to help cover up flaws and imperfections. You can ask the help of a professional makeup artist to help you achieve a flawless look, or go for a DIY kit which is a handy option that doesn't cost the earth.
#2 Flat Iron/hair straightener
Using a flat iron will reduce heating time, frizz and have the flexibility to change your hairstyle any time you want. You can be a curly-haired girl today and have straight hair tomorrow if you want to. Cheaper hair straighteners cost under $30, but even some of the more expensive brands will only cost you around $150. A wise investment, we say!
#3 Coconut Oil
This is a flexible product that you can use for a lot of things. Its health benefits are often heralded, but it's one of those multi-use products that you just have to have! You can put it on your hair for deep conditioning at night, remove your eye make-up or rub on to dry lips.
#4 Cleanser
A good cleanser is important to maintain your healthy skin and improve your makeup's appearance. It would be best to buy a cleanser that has toner in it.
#5 Tinted Moisturizer
For anyone who wants to put on make-up fast, a tinted moisturizer is a must. It's both color and moisture for your face. Pick one that is hypoallergenic and also has an SPF of at least 15 to protect your skin from harmful UV rays.
#6 Night Cream
Some women think that when you put moisturizer on in the morning, you don't have to bother putting it on at night. However, putting heavy moisturizer on at night is essential. Do not forget to spread it on your neck to prevent sagging.
#7 Vaseline
Vaseline is a very good beauty product that can be used for cracked and dry skin. It is inexpensive and it comes in different sizes. You can keep some of it in your gym bag, purse or bathroom.
#8 Lip Tint
For women who do not like heavy lipstick and sticky gloss, lip tint/stain is perfect for you. It will bring out the color of your face with a hint of red or pink.
#9 Lotion
Skin looks healthy when it is hydrated. It also prevents aging and sagging. Keep a small container in your purse. Use after sanitizing or washing your hands, and it will keep your hands looking young.
#10 Boar's Hair Brush
Better if it's round rather than square. This type of hair brush will give you smooth locks without losing volume.
#11 Frizz Serum
Whether you have thin or thick hair, there will come a time when your hair will get the dreaded frizz. Good thing that frizz serum is available to keep your hair looking healthy. Just use a small amount to tame your whole head. High-school-trained cosmetologists know that for thin hair, it's best to use a smaller amount and rub it in the ends of the hair.
#12 Satin Pillow Case
This trick might seem strange, but a satin pillowcase has a range of benefits, including preventing fuzzy or frizzy hair and preventing matted hair. If you've recently had your hair styled, a satin case can help preserve the style a little longer as you slip around instead of rubbing on the cotton case. Clever huh?!
#13 Bobby Pins
If you want to quickly arrange your hair, bobby pins are your best friend. Always keep at least 5 in your purse, car, or gym bag. If you have thick hair, you will need more.
#14 Mascara
If you don't like to wear a lot of make-up, you can always grab some mascara, swipe one or two on each side of your eyelashes, and it will instantly wake your face. Framing your long lashes will help you look put together.

#15 Liquid Liner
You can always count on a liquid liner to perk up your eyes. It is the best type of liner because it will last the entire day. Put it close to your lashes and some underneath the lashes. If you are going out at night, put a thicker line and add angel wings.
Summing Up
You can always trust these essentials to get you through any make-up mishap or bad hair day. Just keep them handy and in sight so you can just easily grab them and fulfill the look you are going for. Take a look at our products to swear by post for specific recommendations.