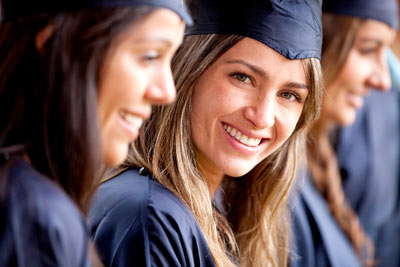 Working as a makeup artist is exciting and rewarding, but it also often requires a license. Just anyone can't show up at a salon and apply for a job as a makeup artist because they've done their own makeup for years. Prospective makeup artists
must attend school
to learn about their chosen career, and they must also pass a licensing exam in order to receive makeup certification. Without following those steps, it will be impossible to legally find work as a makeup artist in any area.
Attending Makeup Artistry School
Makeup artistry school is essential for anyone who wants to become a licensed makeup artist. Makeup artists are licensed and governed by the state board of cosmetology in the area in which they live. This means that makeup artists must complete a specific number of hours of study, and they must also pass a licensing exam. Enter your ZIP below to see where you can train nearby to become a licensed makeup artist.

Students attending makeup artist school should expect to attend a wide range of
classes
, from
skin care
to color theory. It's important for makeup artists to be able to understand their clients' skin tones and how to complement those. Once the fundamentals are mastered, students can move on to more advanced techniques and even get into special effects makeup, fashion makeup, and
theatrical makeup
.
Building a Makeup Artist Portfolio
During makeup artist school, students have the opportunity to practice what they are learning. This gives them the chance to master the skills and techniques as they are being taught. It's extremely helpful if students
begin a portfolio
of their best work as soon as possible. A portfolio showcases the best work, so it is a constantly changing and evolving scrapbook. These are especially helpful for job interviews and impressing potential clients.
Licensing Requirements for Makeup Artists
Licensing requirements vary from one location to another. The state board of cosmetology determines the specific requirements, and administers testing to determine whether or not a makeup artist has the knowledge needed to work in her chosen career. The state board of cosmetology also handles maintaining records regarding license renewal, for which some locations require repeated testing.
Although exams for licensing tend to be difficult and comprehensive, most schools that teach makeup artistry offer practice tests for their students. This helps even students who have test anxiety to really focus on the test and the information that they have already learned. Students can take as many practice exams as they like, until they're comfortable with the experience and feel they understand what to expect.
Makeup Artist Job Prospects

According to the U. S. Bureau of Labor and Statistics, job prospects for makeup artists are extremely positive. Licensed makeup artists can work in an astounding array of different fields, from salons in their hometown to movie sets around the world. With that kind of variety, being a licensed makeup artist opens all sorts of doors depending on what the makeup artist wants to do and where she wants to live. Pay is commensurate with experience and also with the type of makeup work done. In many cases, a makeup artist can write her own paycheck, particularly if she is committed to her work and to her clients. Enter your ZIP below to see where you can train nearby to become a licensed makeup artist.