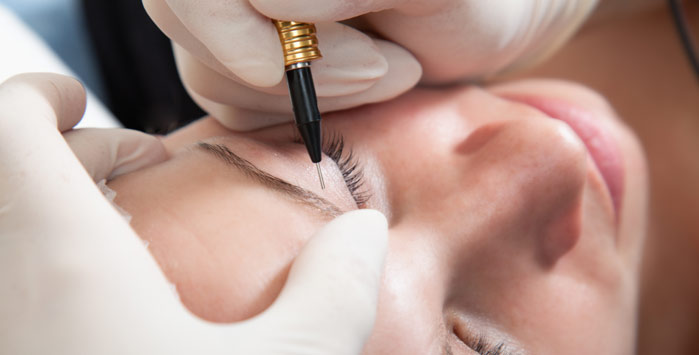 A good way to improve the look of a client's eyebrows can be found through a procedure called microblading. This procedure is known for helping recreate, correct, and improve eyebrow structure. It's perfect for those who have natural brows and for those who have little to no eyebrow hair. The results from the microblading procedure, which is a semi-permanent makeup, provide a long-lasting and natural look that can last between nine to eighteen months if done correctly. Microblading technicians use a pen that is 3x thinner than a normal blade to draw thin and natural-looking hairs using the ink that has been deposited inside the pen. This is a different concept from how eyebrows are normally done.
Why Take the Training?
Those who would do well with microblading being in their repertoire are cosmetologists, makeup artists, and estheticians. A single session can range between $500 to $2000. This can significantly increase a beautician's earnings for a normal day's work. There is also no expensive equipment that needs to be purchased to do this work. However, due to how long the effects of this procedure last, it is important that those who use it make sure that they place careful attention on every step of the process. This includes drawing the eyebrows to filling them in with hair strokes, every small detail matters.
It is also very important to be completely knowledgeable in every aspect of microblading procedures. One must become a master at every hair stroke application process. A school that will explore manual microblading, tool sterilization, skin structures, proper application, aftercare, and touch up in depth would be perfect to look into.
The perfect course will have the following:
Microblade Hair Stroking Methods
Old Tattoo Covering
Multiple Techniques for Designing Eyebrows
Safety and Sterilization
Color Mixing
Drawing Schemes
Skin Structures and Natural Regeneration
Tools and Products
Hairstroke Customization
State Permanent Makeup Regulations
Microblading For Cancer Survivors
Another reason to learn microblading is that you'll be able to restore the confidence of those who have experienced hair loss due to chemotherapy or other medical procedures.
It is understandable that those who no longer have eyebrows would feel insecure or self-conscious. Through tattooing new eyebrows, one can easily gain back some self-confidence.
Not every cancer survivor is eligible however, those who are immunocompromised or have very sensitive skin after chemo are not recommended for the procedure.
Where Can You Do The Training?
Many beauty schools will offer courses. In particular, schools with an aesthetics or permanent makeup program will likely offer microblading. Since the classes don't take very long, you can often do them on weekends or evenings. Cosmetology night schools are perfect for continuing education! Use your ZIP to find a program near you:
A typical course focusing on just microblading won't take too long and shouldn't cost too much compared to a full cosmetology program. An average training session would last three to five days and might cost anywhere from $500 to $4,000. As noted previously, successfully completing your studies in this field can prove to be quite lucrative!
Some places you might consider learning: