While some clients choose to leave their artificial nails plain, polished in solid colors or in a French tip manicure, other clients want something a little more flashy.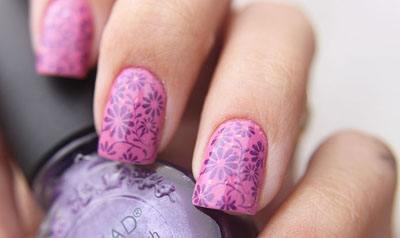 Manicurists have to learn how to accommodate those desires if they want to make their clients happy. With natural creativity the right tools and the right training, any manicurist can turn out artificial nail designs that will make their customers love showing off their nails.
Acrylic Nails
Acrylic nails are a popular type of artificial nail. They're popular because they aren't difficult to apply or to maintain. A nail technician can apply acrylic nails in one of two ways. They can either use a plastic tip that gets glued onto your natural nail and then sanded to match your nail or they can use a form. With either method, liquid acrylic and powder get brushed and sculpted to form
the nail. Once the acrylic cures, the nail is solid and takes polish well. They also make a fantastic blank canvas for nail art of all types.
Manicure Nail Designs
Adding designs and decorations to nails makes them highly personalized and they're a great way for people to show off what they love. Nail designs aren't limited by anything except the manicurist's imagination. Clients can ask for decorations in a stunning array of formats.
Stamping – Stamping involves painting a base coat on the nail and then applying nail polish to a stamping template. The manicurist picks up the design with a stamping tool and then rolls the tool across the nail to transfer the stamped image to the nail. Once dry and coated with a top coat,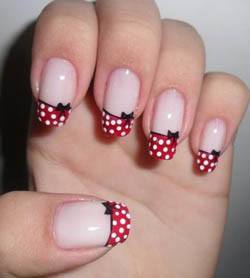 the stamped design lasts as long as the manicure does.
Rhinestones – Rhinestones and metal studs glue right onto the finished manicure. They're perfect for adding a little bit of bling to a manicure. If desired, the manicurist can even cover the entire nail in stones.
Artwork – If a manicurist is gifted with painting, freehand artwork is a stunning way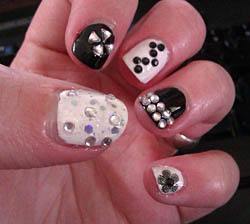 to personalize a manicure. Fine tools such as striping brushes, dotting tools, and even hand-crafted templates make each nail a tiny work of art.
Airbrushing – A common method for adding decorative touches to nails is to use an airbrush. The nail polish is blown through an airbrushing tool to create stunning, crisp images. Airbrushing is one of the most common ways for manicurists to produce flawless French manicures. The artist holds a template where the tip will be and then sprays a layer of solid white paint to produce the French tip. From there, a coat of sheerest pink finishes the look.
All Nail Designs
Some customers only want small designs on their nails or they prefer something more subtle. This is particularly important if they work in an office in which garish nail art isn't as acceptable. For those who love to wear conversation pieces right there on the tips of their fingers, however, nail designs that cover the entire nail are the way to go. For anyone wanting to try this type of nail art out, here are some ideas straight from school.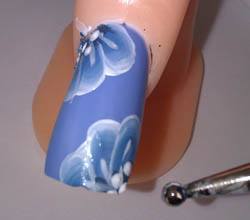 Stained Glass – Choose three or four bright colors and paint different geometric shapes onto each nail. Allow the colors to touch, but not overlap. One way to make sure that the colors stay crisp is to paint each one separately and wait for each to dry before painting the next section. To finish, use a striping brush to paint black lines between each color, just like a stained glass window. Finish with top coat.
Reverse French Tip – The French tip manicure is timeless and classic. Give it a modern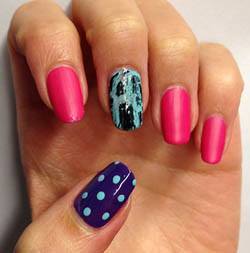 twist. Choose two complementary colors and use one as the base and the other for the tip. You can try a deep oxblood with a pale grey or even go with bright primary colors.
Animal Prints – Animal prints are always hot, and they look even better across the entire nail. Go traditional, such as an orange base with black tiger stripes or a yellow base with black cheetah spots. Take the full nail design up another notch, though, by choosing colors that no one sees in nature. Try bright purple with black zebra markings or hot pink cheetah spots on a silver background.
Stripes – Use striping tape and a super-thin brush to create perfect pinstripes straight up and down the entire nail. Once you remove the tape, your lines will be perfectly straight and clean. Go subtle with pastels or really shake things up with neon colors.
Nail Design Classes
Before anyone can be a top manicurist, they have to learn everything that there is to know about nails and nail care. The best way to do this is to find a cosmetology school that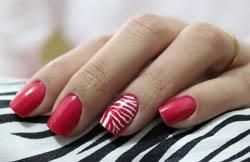 allows specialization in nail technology. During their program of study, budding nail technicians can expect to learn about a fascinating array of topics.
The Science of Nail Care – Although it seems like taking care of someone's nails and hands is pretty straightforward, there is a lot of science involved. First there's the anatomy of the nail, and then there is information about how different chemicals can either help or hurt nails.
How to Care for Nails – From how to trim and file them to how to help them grow their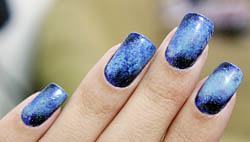 best, manicurists need to know everything that there is to know about caring for finger and toe nails. They learn what products to use in specific situations and how to advise their clients to care for their nails at home.
Diagnosing Nail Trouble – Part of the entire nail care process is the ability of a trained manicurist to be able to spot and recommend treatments for nail diseases and other problems. Issues such as nail fungus must be addressed quickly to keep them from worsening.
How to Decorate Nails – Decorating nails is one of the first things that potential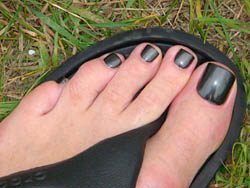 manicurists think of, but it's often later in the program than they think. Once they have the basics down, they can start learning how to make their clients' nails look fantastic with all sorts of nail designs. Once you gain some expertise you'll quickly develop a passion for this field.