Manicures have been around for millennia. Did you know that three thousand years ago Egyptians were hennaing their nails? In out age and especially in the last decades, nail art has vastly increased in popularity with treatments becoming simpler to perform and more enduring than ever.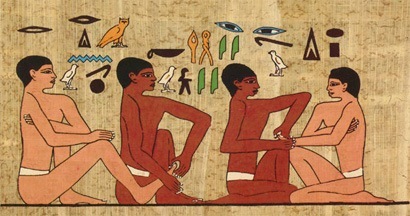 If you're keen on studying to be a manicurist and might have taken some classes already you probably already have a deep interest and some knowledge of the art. Here's five types of nail procedures to refresh your knowledge and whet your appetite!
A Simple Manicure
The most common and basic type of manicure at a salon or spa uses well-known steps and includes polish. In this type of manicure the polish put on usually lasts for only a few days. The nail technologist will start by submerging the fingers in warm water for a few minutes, and then soften the cuticles with lotion. The cuticles are then tidied up, and the nails are trimmed, filed and smoothed. The manicurist then uses a moisturizing lotion to massage the fingers, hands and sometimes arms. Once the nails are clean, a beginning coat, a couple of coats of polish and a finishing coat are layered up. And as we all learn quickly at the beginning of our nail care experiments: let the polish dry properly!
Acrylic Additions
Acrylic nails made in a salon are a very different beast from the ones you might buy in a store and may last a good long while if well-maintained. Step one is to ensure that the nails are well-cleaned in order that the nail tips and acrylic concoction will adhere. After getting everything securely fastened shaping with a file begins – sharp or rounded or somewhere in between? It all depends on the clients wishes. Nails do grow so acrylics should be filled in when necessary – usually every seventeen to twenty days or so.

Deep Moisturizing and Hot Stone Treatments
A little more pampering can be afforded in this type of spa combo. The beautiful scents of the deep moisturizing oils and the relaxed hand massage that goes along with this procedure make for a rejuvenating break from a stressful week. Hot stones also have a deep relaxing effect and further enhance the experience by allowing the moisturizing substances to penetrate more deeply. This procedure is just as effective on feet as it is on hands.
Gel Manicures
The polish used for a gel manicure is what separates this process from the simple manicure. Gel is such that ultraviolet light (a warning here)is needed to dry as the coats of liquid are layered up. The beauty of gel is that it is long-lasting and often lasts up to twenty-one days.
Nail Decals
These are hugely popular these days due to their ease of use and low price. They can be found at any department store or even supermarket and can often be bought on sale for $5 or less. For such a simple and self-applied type of nail art they last quite well, but not so long that you have to wait too many days to try out the next of the many styles that catch your eye.
Treatments and styles of nail art and nail care are always evolving. Keep on top of developments by with continuing education at nail technician schools or simply keep in touch with peers and beauty networks and magazines.