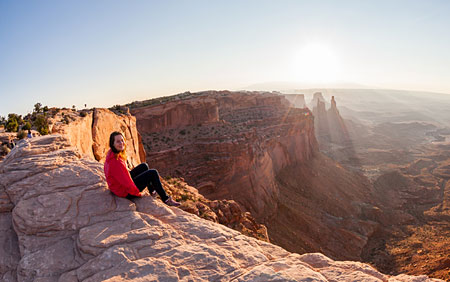 Your friends just invited you on an awesome camping trip, but you find yourself wondering how you can keep yourself looking beautiful while camping. It's not about vanity, it's about looking your best all the time, no matter what you're doing. The clean air that you breath is bound to help but by following a few quick tips (that you may not even get in esthetician school), you can look fantastic no matter wherever you're camping.
Plan Ahead
When you know you're going to go camping, it's already time to get your beauty options in order. If you need a facial or an eyebrow wax, have that taken care of. Get a manicure that will last through the adventure, preferably a gel or shellac manicure. Deep condition your hair as well, because it will need the extra nourishing. If you're are camping near the sea you can treat your hair to some ocean swimming.
Simplify Your Routine
Do you really need false lashes while you're camping? Probably not. You can also ditch the bronzer, heavy foundation, and a few other items. Make sure you've got a good tinted moisturizer with SPF, and simplify your routine as much as possible. If you can't go without mascara and a little lip gloss, that's fine, just make sure you're not overdoing it.
Go with Double Duty Products
Packing for camping needs to be light, especially if you're limited to just your own backpack. Since you've simplified your beauty routine, you won't need as many products. You should also choose some that can double up and do more than one thing. Choose a shampoo that you can also use as a body wash. Or a lotion that is light enough to work well as a conditioner. Every time you can eliminate a separate product, you've lightened your load a tiny bit.
Stay Hydrated
No matter what you're doing, hydration helps you to stay looking your best. Keep cool bottles of water with you, and remember to keep sipping. When you start to dehydrate, your body pulls water from wherever it can, and that includes your skin. Stay ahead of the problem and drink plenty of water all day long and go for a swim if you can.
Or… Don't Worry About It!
It is always an option to just relax and don't concern yourself with your appearance. It is nice to let your skin and hair be themselves for a few days. Not taking along beauty products will lighten your load if you are hiking in to your campsite.
Now that you know how easy keeping beautiful while camping can be, get out there more often. Connecting to nature is another activity that helps to keep you beautiful, both inside and out.[csbshare]