There are a lot of beauty bloggers out there. There are plenty of really good ones too. So how do you decide which ones to follow? It is not easy and can be a hit-and-miss exercise. What one person likes and can't get enough of might bore another person. And sometimes a self-taught makeup artist can be just as good as one who has trained at cosmetology or makeup school.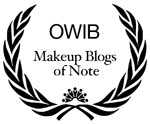 To that end we've gathered together a few of our favourite bloggers who either focus on makeup — including product reviews, as well as how-tos and tips and tricks — or have a big interest in makeup as part of their site. We've included a couple of out-of-the-ordinary and lesser-known blogs because life isn't lived in a straight line. Some smaller personal sites of working makeup artists round out our list so that you can get an idea of what the life is like. (Note that these are listed in no particular order)
We hope you find some you like in this list!
Ren is a Filipino-American living in Atlanta, GA. Here passion is makeup and you can tell by her frequently updated blog! Great tips and reviews with a focus on Asian skin types. Ren's friendly and engaging content makes her blog a pleasure to visit.
Jennifer Duvall's beauty diary focuses on helping women to "feel confidently pretty" without overdoing it. She does just that with wonderful advice on both her blog and youtube videos.
A comprehensive blog with tons of reviews on both skin care and makeup products as well as tips and tricks and a section on "green" beauty (less chemicals). Carissa has a ton of experience to back up her ideas on the products she reviews.
What's in a name? Everything in this case because a makeup and beauty blog is exactly what you'll get when you visit Karen's site. A website often mentioned on "best of beauty blog" lists, and with good reason. M&B blog gets a ton of traffic and is a good place to go for community as well. Founded in 2007 it looks like it will be around for many years to come 🙂
With a tagline "real scientists answer your beauty questions" you know you've found a unique blog. These guys come at makeup from a chemist's point of view and do a lot of straight up debunking as well as giving tips and tricks to save you $. A good place to go to get opinions unswayed by brand names and advertising.
What an unusual name for a beauty blog, right? It's a wonderfully geeky take on beauty and style. Elvira doesn't have a lot of time to update these days, but there is a wealth of content accumulated up to 2015. Well worth a browse. Be ready to stay up late once you get hooked 😉
You'll get drawn in by the cool name (yes, Cara is the blogger's name) and stay for the quality content. There are lots of tutorials here with "before and afters" to show just what you can do. Be sure to read about Cara's hilarious 5th grade clay makeup mask on her "My Story" page.
A UK beauty blogger with a charitable project called "My Makeover" that helps women who've suffered domestic abuse. It's warming to see a makeup artist giving back. And it's inspiring to contemplate how other professionals can give back according to their special skills as well.
Arianne is a Canadian makeup blogger who started her blog in order to have an excuse to buy & try tons of products 😉 She is forthright in her likes and dislikes with posts going back to 2009. We love her openness in welcoming reader's questions as well.
A blog written by a self-diagnosed beauty junkie who's also got a journalism degree — how great is that?! Someone who loves makeup and beauty who's an expert writing and researcher to boot is not to be dismissed! Kara is passionate, experienced and knowledgeable about her niche.
Annie's site covers everything beauty-related including diet and lifestyle. Of course there are product reviews but up-to-date beauty trend coverage is included as well with an emphasis on being beautiful from the inside out.
Jasmine, based in Vancouver, BC, has 16 years of makeup artist experience. Her site is a good example of the attitude and knowledge required to be successful in the business and shows venues and clients she works with. Her focus is helping clients (including well-known celebs) emphasize their best features.
Caitlyn has a beautiful, professional site to showcase her makeup talents. She's and up and comer in the biz and obviously has the skills and drive to go far. A talent to watch 🙂
A beauty and travel blogger based in Dubai. Najla is the go-to makeup artist for those visiting the region. She was even chosen by E! News to work with them while they were shooting in the area. Her blog ranges into the nutrition side of beauty as well.
A traveling makeup blogger with an ultra-honest and funny site. Sheryll isn't afraid to let you know what she thinks. Fun glimpses into life abroad from a beauty blogger.
Fiore Beauty is an Los Angeles agency with an active blog and more than a dozen artistsand beauty pros on staff. A great blog not just about physical beauty but also living a beautiful life. After all, what's it worth to beautiful if you aren't happy?
Christine is a pediatric critical care doctor who cares about her beauty routine and — as you'd expect — can offer a medical perspective on beauty and makeup. As you can imagine having a family and demanding profession doesn't allow her a lot of time for a morning beauty routine, hence the name of the blog 🙂
Kate's blog started out ranging wider than a makeup and hair blog but has become a more focused on beauty topics since its inception. A former hair studio owner Kate knows her stuff and has a great archive of hair video hair tutorials.
Allison started out as a youtuber passionate about beauty and style. You can still access her videos but she's also started a blog (lucky us!). There are categories on travel and life on her site as well. We feel like she's a friend when we spend time there.
"The Clean Beauty Blog is about beauty at its purest." This means products with as few chemicals as possible but at the same time effective. Lots of good info here and we like the premise. Sadly it hasn't been updated in a while. 🙁
Maryam is a self-taught MUA and has been learning since she started at 12 years old. She has an artistic background and is obviously highly-skilled in the makeup medium … just take a look at her videos! Maryam's blog is pervaded by a kind and clean tone which makes it easy to read and informative.
Fiona is an award winning bridal and personal MUA. It is always a blessing to be able to make a good living doing what you love… Fiona is one of the lucky ones. Her blog showcases the great work she's done on her gigs as well as the occasional review or other makeup artist related topic.
We love travel at Our World is Beauty so we had to add Natasha's blog as it is both a makeup/beauty and travel blog.
She also has a lovely instagram account where you can keep even more current and take part in some vicarious travel.
Last but definitely not least, Jacqueline is a makeup artist intent on using natural cosmetics. She says: "I am 100% committed to protecting myself and my clients from unwanted toxic chemicals." This is great. We think that more and more people will be using all-natural products in the future. Jacqueline's thoughtful blog is a good place to learn about the growing movement of natural makeup.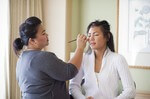 Hawiza has been in the beauty industry since 1999 and is a great example of someone well-regarded in her chosen line of work who also has her priorities straight (family first!). She has an awesome body of work on her "My Work" page.
We hope you've enjoyed our list and find some new blogs you would like to follow. Be certain to let us know if you think we missed a site that absolutely, definitely should be in this list!