When you're a massage therapist or massage student, your table is your tool of the trade. It's where your clients zone out while you work magic on pained joints and muscles and you need it to be able to do its job. When you're just starting out, you may opt for a cheap thinking that a cheap table is the best massage table considering your lack of funds, but there are factors to consider other than just price.
Do You Need a Portable Massage Table?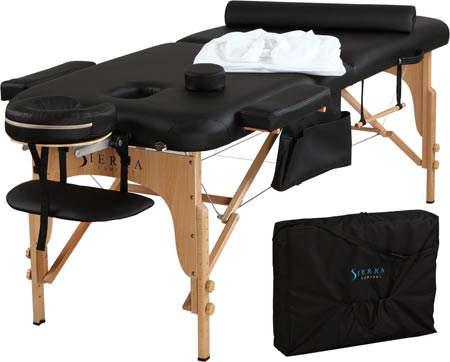 As you first start out, it's very likely that you won't have your own space in which to open up your practice. You might work out of a spa or salon, but if you're planning on freelancing, you're likely to need to go to your clients. Or maybe that's part of what you want to offer your clients. Regardless, it's a lot easier to move your table around if it's actually meant to move around. Portable massage tables and chairs may be lighter than a traditional wooden massage table, and their cases often come with handy little devices such as wheels and handles that can make them more maneuverable.
Materials for Your Spa Equipment

Whether you need a table that's portable or not, you may want one that you can easily move around your workspace. For a table like that, you might choose aluminum over wood. Keep in mind that you want to pay attention to coverings and the type of padding used, as well. Leather warms up for your client as she lies on the table, but vinyl is extremely easy to keep clean and sanitized. Go through your individual checklist to make sure that your needs are going to be met by the table that you choose. No matter whether you're choosing a high end Master massage table or another brand, it won't make a difference if the table isn't made to suit you.
Do You Have a Specialty?
If you offer reflexology massage, for example, you're going to need a table that can accommodate you and your client. You'll probably also need additional bolsters to help your client to remain comfortable while you get to those tough spots on their feet. Similarly if your clientele are more beauty-focused or sports-focused you'll need to factor that into deciding on what type of table you'll get. Your chosen specialty has a huge impact on both the type of table and the type of spa equipment that you also decide to add to your collection.
Always Read the Reviews
When you're looking for spa beds, massage tables, and massage chairs it's essential that you read the reviews. As you read massage table reviews like those on Amazon, look for information that the person writing the review is a massage therapist and has experience with the table in question. Someone who actually uses the equipment day after day in the course of her career is going to be able to shed light on all of the different aspects of how the table works for her.
Your spa tables and other massage equipment are your everyday tools. You want solid equipment that will serve both you and your clients well for years to come, so be sure that you choose your spa stuff with that in mind.