When most people think about their local barber, they may not realize what he or she needs in order to do the job well. There's a lot more to it than just grabbing any old pair of scissors. There are five essential tools that every barber needs starting with the hair cutting instruments. Check out our pick for top clipper and see reviews and prices on Amazon.
On this page:
•Scissors/shears
•Electric Clippers
•Straight razors
•Combs, Brushes, Neck Dusters
•Mirrors
•A Few Other Things…

As you
learn
in barber school, barbers use more than just a pair of shears or even a pair of clippers to get the looks they create for their clients.
Being a barber
really is about having the same amount of artistry with hair as any other
hair dresser
, even if the hair is shorter.
#1 – Get The Best Barber Scissors You Can
If you used only one thing as a barber it would have to be
scissors
("shears" to some). They are number one in anyone's list of barber tools. In many poorer countries barbers don't even own electric clippers. They make do with the bare minimum – not to mention what
barbers of old
used.
As a barber or barbering student, investing in a really good pair of reliable scissors is essential. If you, as a barber, don't get decent-quality ones to start with you will sooner or later. When you use high-quality scissors you'll notice a big difference in how easy they are to use, what a good job they do, and how long they last.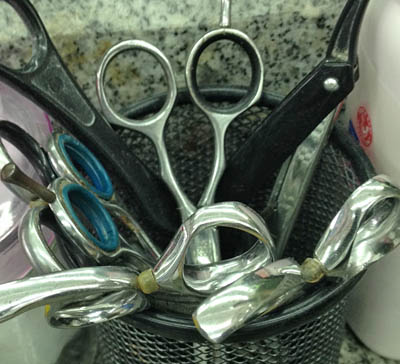 That being said as a beginning barber it is wise to spend a moderate amount on your shears as you will know better what you want and need in your scissors as your cutting skills develop.
Check the table below for our pick for the best starter shears for your money. They are under $30 for cutting shears + thinning shears and are 420-grade stainless steel with a tensioning screw. And very important: they feel good in the hand.
At $25 you won't feel you wasted money when you upgrade to a set made from higher grade stainless steel or titanium and will always have them as backups. At any rate, many barbers have several sets of shears for different hair cutting tasks.
#2 The Most Powerful Electric Clippers for Professionals
Home hair cutters
can make do with a weak clippers since they are not under pressure to earn a living and may only do one haircut every couple of months. Barbers, on the other hand, are making a living and can't afford to work with low-quality tools. That's why investing in the best you can afford is a no-brainer. Even a small difference in power and quality can make a work day easier.
As some barbers have more than one pair of scissors so also do they have more than one electric hair clipper. Having clippers for different tasks speeds up a barber's work. It makes sense to have a backup clippers as well.
Unlike scissors, which you may want to try a few different models and styles of to see what suits you best, barber clippers are fairly easy to choose: get excellent quality with lots of power.
Our choice for best hair clipper is the newest Oster, the Model 10 (mentioned in the video at the bottom of the page). It is only a little more expensive than the previous best the Oster 76. The Model 10 is a smaller, lighter and quieter than the 76 without sacrifice power. The more ergonomic design makes it easier to fade and blend than with the 76. The Model 10 is THE choice of many professional barbers. See reviews and price on Amazon.
Get even more detail on the Oster Model 10.
Though not as powerful as the Osters a good lower priced model is the Wahl 8500 Senior. It has excellent reviews and is a best-seller for a reason. It's a good option for a student on a budget or someone who uses clippers less frequently. Check price and reviews for the Wahl 8500 on Amazon.

#3 Straight Razor for Barbers
Next on our list
of essential tools for a barber is the
legendary straight razor
. These bad boys are renown for giving the closest shave possible. As such expert barbers are expected to be adept with a straight razor. Can you imagine asking for a shave at a barber shop and being treated to a shave with a disposable? No. It takes a while to get really good at using a straight razor but it is an important skill for an experienced high-end barber to acquire.
A good starter's blade is a 5/8″ round point like the Dovo Classic. The Dovo Classic's only drawback is a slightly weak plastic handle. For that reason we can't whole-heartedly recommend it as a razor that will last your whole life. Dovo 5/8″ Straight Razor with Ebony Handle though is worth the money. This ebony handled version has the same excellent blade but paired with a high-quality grip which will last a lot longer than the plastic. A little more costly at around, but worth it. See price and reviews on Amazon.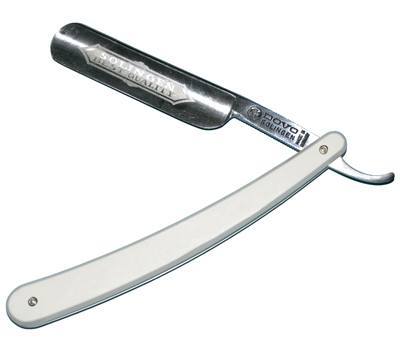 Our recommended best value starter blade for a first-time user is the Shave Ready Straight Razor. It is inexpensive enough that you can upgrade when you are ready without feeling you wasted money. It's also sharp and ready-to-use right out of the box. This blade has 100+ reviews with four stars and is truly low-cost for what you get.
The other option is to buy a straight razor that uses disposable blades. The Vintage Straight Razor is one such. It's a really good option for a beginner and some people never upgrade to a cut-throat style razor because of they are so convenient. At only $24.99 with excellent reviews on Amazon this unit is an easy one to recommend. One warning a razor like this without the best blades is much more likely to irritate and scrape your face rather than cut your hair, so get some high quality single-edge blades while you're at it.

Clippers

Scissors

Straight Razors

Professional Grade
Oster Model 10Pros: Powerful, durable, reliable, great reviews!
Cons: Some buyers report missing #000 blade, a few users have mentioned overheating issues.
More info and review.
Harutake Professional Scissors - 440c Stainless Steel
Pros: Very high quality stainless steel, professional grade, long-lasting, good reviews
Cons: High price


Check Price & Reviews
on Amazon



Dovo Straight Razor Carbon, Ebony Wood Handle 5/8"
Pros: Super-close shave, excellent materials, beautiful
Cons: High-priced (but worth it)


Check Price & Reviews
on Amazon

Student Grade
Wahl Pro 8500 Senior:
Pros: Lower price, lots of good reviews, great all-round clipper.
Cons: Not as powerful as Oster 10s


Check Price & Reviews
on Amazon

Suvorna Ador 6" Professional Salon Shears
Pros: less expensive, Excellent reviews, best value while still good quality
Cons: Lower quality materials not suitable for a pro barber.


Check Price & Reviews
on Amazon



#1 Best-selling Straight Razor
Pros: Inexpensive, easier-to-use, no sharpening with disposable blades
Cons: won't give as close a shave as a cut-throat razor


Check Price & Reviews
on Amazon




#4 Combs, Brushes, Neck Dusters for Barbers
What would a barber be without a comb, a brush and a neck duster? You could argue that hair will get cut without them, but if you are a pro they are required. Fortunately, they aren't big ticket items unless you are going for the rare or antique.
#5 A Mirror or Two
Clients need to be able to see the masterpiece their barber has wrought. In order to do that, barbers need to provide their clients with a large mirror, front and center. That lets them have an easy way to get a good look at the front and sides of their head and face. Don't forget a good-sized hand mirror, too. With that, clients can turn around and check out every angle of their new look, so they can praise their barber appropriately. 😉
Honourable mentions below: very important for a barber but maybe not essential…

Barbershop Tools for Cleaning and Sanitizing
In addition to the tools for cutting and maintaining the hair, barbers also need to be able to maintain their equipment. That old jar of Barbicide is there for a reason; it helps to keep combs clean and sanitized in between clients. Barbers also need to have oil, rags, and cleaning supplies to keep their clippers and various scissors in good shape. Poorly maintained scissors and clippers cannot do justice to clients and their hair.
The Barber's Chair
Probably the most infamous tool of any barbershop is the chair. Not only does it raise and lower to make it easier for the barber to trim hair properly, it can also tilt back until the occupant can lie down.
This is super important for the perfect shave
. It lets the barber have the access he needs to get in there and do the job properly. While barbers can use other types of chairs if necessary, a true barber chair makes every aspect of the job so much easier.
Barbershop Capes and Towels
Capes and towels might not seem like important tools for a barber, but they also help him to do his job properly. The capes keep hair and hair products off clients and their clothes, which is really important for any client, but especially for those visiting in the middle of a busy work day. Towels are versatile, and can be used not only for drying hair and brushing away clipped hair, but they are also handy for softening beards with hot water before a shave. Towels and capes are on most lists of everything a barber needs but not absolutely essential. Capes are pretty inexpensive too.
---
And there you have it: 5+ essential things that barbers need in order to provide clients with the perfect haircut. Barbers don't need to start out with all the equipment right away, but it certainly helps to have a list of supplies to start acquiring and working toward. Read about things besides tools of the trade you need to consider before opening a barbershop.
Taking a massage course isn't a bad idea for most barbers, too. More and more salons now offer facial and scalp massages for their clients so getting the rudiments of the craft wouldn't be out of place.