When students first
decide to attend
cosmetology school, one of the first considerations is
how much cosmetology school costs
. Unfortunately, there is no one simple answer to this question. Students seeking a cosmetology license need to do a little bit of research to find out the total cost of obtaining that license.
How Much Does It Cost?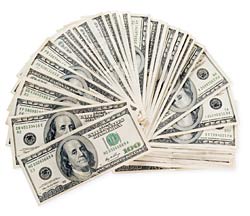 The price for attending a cosmetology school can range from several hundred dollars to several thousand partly depending on how long the program lasts and whether training is started in high school or later. Some online cosmetology programs may only cost a student a few hundred dollars to attend, but a beauty college with a sterling reputation may cost upwards of $20,000. Students should keep in mind that not only will they have the cost of tuition, but there may also be costs for other items listed below:
Textbooks
Products and supplies
Licensing exam fees
License fees
Some schools include product kits and textbooks in the tuition for their program, so it's a good idea for students to ask about what their tuition covers.
Some tips from a beauty school graduate — 5 things you should know before you go…:
Factors That Make a Difference in Beauty School Tuition
With that kind of difference in tuition levels, students may well wonder what the difference is between an inexpensive school and one that is way out of their
budget
. As with many schools, the differences can come down to several different factors, but the two biggest are the school's location and, of course, the school itself.
Location – Schools in a large metropolitan area, such as Atlanta or Los Angeles, are going to be more expensive by default. Schools in smaller areas are less likely to have this issue. Also, online schools have less overhead. They teach via electronic methods, so students are not in a physical building that the school must pay to maintain. When looking at the budget for cosmetology licensing programs, students would do well to look at the location of the school they want to attend.
The School – Schools such as Aveda Institutes have a great reputation and a big name. Students who attend this program know what they will be getting from their education, and it will be pricey. Cosmetology programs at the local vocational or technical school, on the other hand, do not have the same reputation and can be far more affordable. This is not to say that one school is better than the other at all, but some do have better reputations that can end up affecting the bottom line.
What Does Tuition Include?
Students hoping to obtain a license in cosmetology learn how to do facials, apply makeup, do manicures and pedicures, and take care of hair. They will need to undergo hundreds of hours of classroom instruction as well as many more hours of practical, hands-on learning. Because of that, they need not only textbooks, but also the materials for their practical learning. Some schools offer kits that include all of these products, but not all do. Students should be diligent about asking what exactly their tuition covers when they apply to beauty school.

Cosmetology is a rewarding career that offers
lots of room for growth
. Once students have decided where they want to go for cosmetology training, they can look into
other options
to help reduce some of those costs.